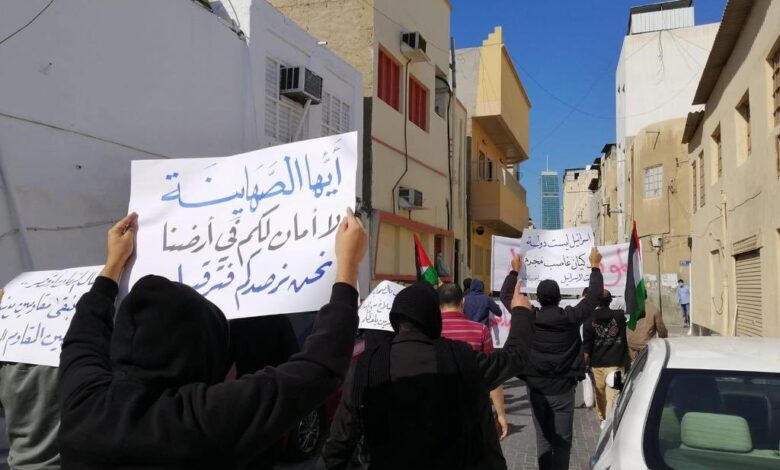 Dozens of citizens demonstrated in Bahrain after the Friday prayers to protest the appointment of the Chargé d'Affairs of the Israeli Embassy in Manama.
Activists on social media circulated photos and videos showing demonstrations in many residential neighbourhoods, vehemently rejecting the regime's affinity with Israel.
The protesters carried posters that strongly reject the normalization agreement signed by the regime with Israel in mid-September, under American auspices.
Rejection of normalization
Among those banners: "O Zionists, you have no safety in our land," "Israel is not a state but a usurping, criminal entity," "A long time or short time will remain in resistance with the resisting people of Palestine."
Throughout the protests, the demonstrators also raised the Palestinian flag, affirming their full solidarity with the Palestinian people's right to decide their destiny and reject normalization with Israel.
On Thursday, the Israeli Ministry of Foreign Affairs announced Itai Tagner as the Chargé d'Affairs to its embassy in Bahrain.
An official in the ruling regime had discussed with Tagner the latest developments regarding the Israeli embassy's inauguration and Israeli Prime Minister Benjamin Netanyahu's visit to Manama.
The news agency owned by the Bahraini regime stated that Sheikh Abdullah bin Ahmed Al Khalifa exchanged "views on the current situation and developments on the regional and international arenas of common interest."
Private sources told Bahraini Leaks that the meeting on Wednesday discussed arrangements for Netanyahu's visit to Bahrain, scheduled for the end of this month or early February.
According to the sources, among what was discussed was the completion of the necessary equipment to open an embassy for "Tel Aviv" in Manama.
Tel Aviv and the opening of an embassy in Manama will end 25 years of secret relations between Israel and Bahrain.
Popular discontent
Moreover, last week, Bahraini Leaks, citing security sources, learned that the regime's security services had arrested three persons who were intending to carry out operations targeting Israelis in Manama.
The sources stated that the three persons, who are young men (20-30 years), do not have any previous security record or even positions against the Khilafiyya regime.
They explained that the three persons confessed during their interrogations that their motives for carrying out operations targeting Israelis are their desire not to have Israelis in their country.
READ: British MP expresses concern over human rights violations in Bahrain
The normalization agreement caused tremendous shock, resentment and widespread popular rejection among the Bahraini people, their political societies and civil society institutions.
This apparent rejection was reflected in the Bahraini people marching in protest over the past weeks, rejecting normalization.
The head of the Bahraini Journalists Association, Ahdia Ahmed Al-Sayed, complained that the Bahraini community did not accept her and her fellow print journalists due to their explicit support for Israel's normalization agreement.