News
Intelligence Sources: Salman bin Hamad Strengthens His Connections in the UK with a Network of Advisors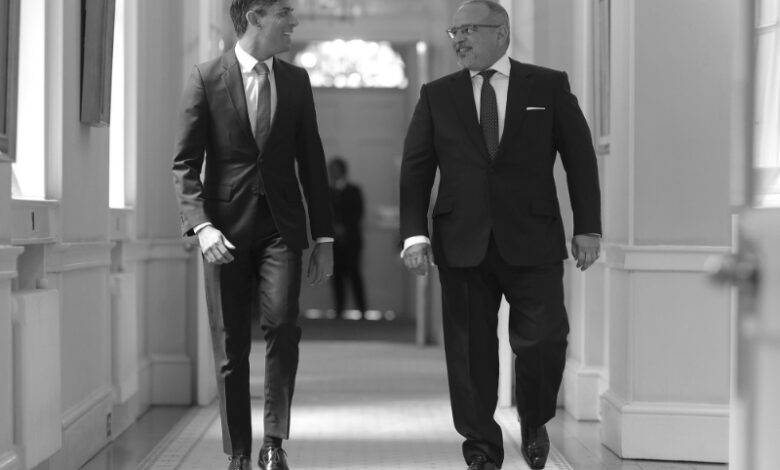 According to intelligence sources, Salman bin Hamad Al Khalifa, the Crown Prince of the Bahraini ruling regime, is reportedly strengthening his connections in the United Kingdom through a network of advisors. In exchange for substantial salaries, the Crown Prince seeks to enhance his ties in Britain by employing a team of experienced consultants.
French intelligence website Intelligence Online revealed that Salman bin Hamad Al Khalifa maintains Bahrain's interest in the United Kingdom through investment tools in London and a network of advisors who have extensive experience working at the highest levels of the British government.
The website quoted sources stating that Gerry Grimstone, who served as the UK Minister for Investment from 2020 to 2022, was part of the British delegation that received Salman bin Hamad Al Khalifa in London on July 3rd of this year.
According to the sources, Grimstone joined the London-based consultancy firm "Equilibrium Global" in January. The UK Advisory Committee on Business Appointments appointed the firm, which approves private-sector roles for former public-sector employees.
Equilibrium Global, headed by former Chief of Defense Staff Sir Nick Carter since 2022, advises Salman bin Hamad on modernizing Bahrain's state apparatus. The Crown Prince has been Chairman of Bahrain's Civil Service Council since 2008.
The company also supports the Economic Development Board, which aims to attract foreign investment to Bahrain under Salman bin Hamad's supervision. The sources revealed that Grimstone is among a long list of former British civil servants engaged in consultancy work between London and Manama, including several former British ambassadors to Saudi Arabia.
Grimstone, who previously served as Chairman of Barclays Bank from 2017 to 2019, is no stranger to the Bahraini-British business world. Before he was appointed Minister, he led a joint venture established in 2019 between the company Abrdn and the investment arm of Standard Life Aberdeen's financial group, where he served as Chairman from 2007 to 2018. He also worked with the Bahrain-based Investcorp.
According to the sources, Investcorp is an investment group with several Gulf contributors, including Abu Dhabi sovereign wealth fund Mubadala. Michael Fallon, the former UK Secretary of Defense, is reportedly one of its advisors.
Under the chairmanship of Mohamed Moheb Adly Al-Araimi, former Commander of the Royal Air Force of Oman and former President of the Central Bank of Oman, Investcorp signed a non-binding memorandum of understanding to invest £1 billion (€1.17 billion) in the British economy.
The investment agreement was signed on July 3rd of this year by Salman bin Hamad and the former Minister of State at the UK Department for Business, Dominic Johnson.
Alongside Investcorp, the Bahraini sovereign wealth fund, Bahrain Islamic Bank, participated in the investment. The fund issued Sukuk worth $900 million (Islamic-compliant bonds) through InfraCorp on the London Stock Exchange, as did "Assets for Asset Management."
According to the sources, the Bahraini Crown Prince sought to secure security support from the British Prime Minister, Rishi Sunak, amid the rapprochement between Riyadh and Tehran. He reopened the British-Bahraini naval support facility, the "HMS Juffair," in Bahrain in 2018.
Salman bin Hamad has also sought to strengthen his relationships with former British officials, including former British Prime Minister Theresa May, who launched her private office in 2019. In November last year, the Bahraini government allocated over £16,000 (€18,700) for her visit to Manama to express her views on "modern slavery."
During the same month, Bahrain sponsored the trip of Conservative Member of Parliament Kwasi Kwarteng and former UK Prime Minister John Major's Defense Secretary, Nicholas Soames, to participate in the Manama Dialogue 2022 security forum.
Soames is known to have a close relationship with Bahrain's King Hamad bin Isa Al Khalifa, and both graduated from the Royal Military Academy Sandhurst in the same year. All their expenses for attending the Bahrain Grand Prix in early March of this year were covered by the Crown Prince.
Bahrain's Foreign Minister also includes another former British Foreign Secretary in his advisory team, Philip Hammond, who was present during the Crown Prince's visit to London.
Hammond, who charges fees for his clients through his firm Matrix Partners, also serves as an advisor to the Kuwait Investment Office (KIO), the London arm of the Kuwait Investment Authority (KIA).