Uncategorized
Symbolic stand in London, in remembrance of activists executed by Bahraini regime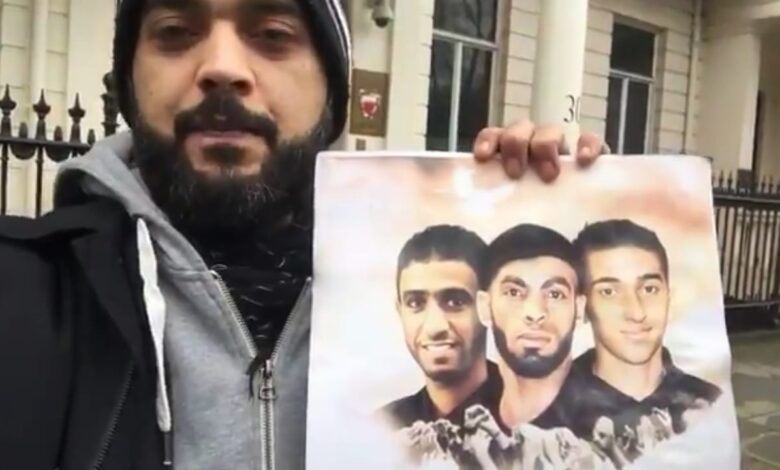 A symbolic stand was held in front of the Bahrain embassy in London, in commemoration of the fourth anniversary of the regime's execution of three Bahraini activists.
The Bahraini political refugee, residing in London, Ali Mushaima participated in the stand.
It was not possible to organize the stand in the usual manner due to the widespread virus growth and Britain's restrictions.
Hold on to justice
Mushaima affirmed that this stand comes as a renewal of adherence to the right of retribution.
He raised pictures of the three victims: Abbas Al-Sami (26 years), Sami Mushaima (41 years), Ali Al-Singace (21 years), in London.
Activist Mushaima stressed the necessity of retribution for the killers and criminals responsible for the violations, upon orders from Bahrain's ruler, Hamad bin Isa.
The regime carried out its crime by executing the three by firing squad at dawn on January 15, 2017.
The verdict was carried out under pressure from the UAE after one of its soldiers was killed in a bombing that killed 2 Bahraini police officers.
The three activists were accused of masterminding the "blood money bombing" incident in 2014.
It is the accusation that Abbas Al-Sami denied before his execution.
The regime was indifferent to the international demands that demanded a halt to the death penalty, which was the first in Bahrain in six years.
Awful crime
The Movement for Freedom and Democracy (Haq) described the activists' execution as "the heinous crime that shook the conscience of the Bahraini people."
Haq added that the regime's crime came to satisfy the Abu Dhabi government, after the killing of a mercenary officer participating in the suppression of the protests in 2011.
It indicated that "the ruler of Bahrain, Hamad Al-Khalifa, who approved the death sentences, did not give importance to the people of Bahrain when he issued his orders to carry out death sentences."
Haq emphasized its "adherence to the memory of the martyrs and spreading the truth about the regime's crimes."
The movement added, "There is no surrender, no compromise with the authority, no neglect of blood and sacrifices, no matter how high and no matter how long it takes."
Suppression and intimidation
The Gulf regime uses the death penalty to enforce repression and intimidation in Bahrain to consolidate its security grip.
The Court of Cassation, Bahrain's court of last resort, upheld the death penalty for at least four people who participated in opposition activities.
This followed trials marred by allegations of torture and due process violations.
Bahrain has at least 27 people on death row, of whom 26 face imminent execution.