News
Hassan Mushaima: Prosecution Profile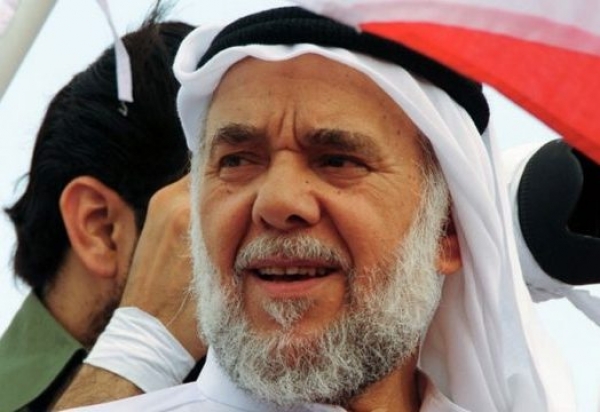 Hassan Mushaima is a prominent Bahraini opposition member and a political prisoner. He has been serving a life sentence at Jau Prison since 2011 after being convicted of conspiring to topple the government due to his participation in pro-democracy marches. Authorities have subjected the 74-year-old prisoner to mistreatment and medical neglect during his incarceration. Hassan refused alternative sentencing in September 2021 and is currently serving his life sentence.
Since his incarceration, Hassan has been subjected to numerous limitations and denied his fundamental rights, including access to sufficient medical care. Hassan, who is in remission from cancer, suffers from a number of chronic diseases, including high blood pressure and diabetes, and has been denied medication and regular checkups for extended periods, despite multiple specialist assessments indicating that he requires regular treatment and monitoring. His medications for diabetes and hypertension are likewise not routinely delivered. Neither analgesics nor pharmaceutical medications were tailored to his needs.
In addition, the jail administration frequently cancels his medical appointments without notifying him. In September 2018, for instance, Hassan's appointments with a diabetic expert and an otolaryngologist were cancelled. In addition, the authorities have stopped him from receiving the Positron Emission Tomography (PET) scans every six months that he requires because he is in remission. Even after the scans have been completed, the findings are delayed for an extended period of time, despite just requiring one day to be provided. Officers have also employed the humiliating practice of shackling prisoners while transporting them to medical facilities. Many detainees, like Hassan, refused these procedures and were thus denied necessary medical care. Due to his significant health issues, his condition is grave, and his lack of care is forcing him to "die slowly."
Hassan was brought to the hospital on 19 October 2020 due to shortness of breath. The doctors recommended that he consult a specialist. However, the government ignored this request, and no appointment was made. Hassan's health deteriorated further in November, prompting his relocation from Jau Prison to the Bahrain Defense Force Hospital. He was placed on an emergency respirator for the second time since October. He was returned to prison around six hours later. Doctors advised him to consult a specialist once again. Five days later, the required appointment was finally scheduled. It was discovered that his high blood pressure and shortness of breath were due to a weak heart. The physician recommended medicine and asked for a follow-up appointment following the month-long course of treatment.
Hassan acquired additional diabetes-related symptoms in May 2021, including abnormally swollen feet with black patches, a big swelling in his thigh, significant knee pain, a limp, and trouble moving after being isolated for two months under the guise of undergoing treatment. Consequently, he was transported to the BDF hospital by ambulance and returned to the quarantine block around 2 am. Doctors detected inflammation and gave medicine, noting that his condition required frequent monitoring. After his health declined, neither he nor his family was permitted access to his medical records. In addition, the Bahraini Ministry of Health issued a fake statement claiming that Hassan's condition is stable and being monitored.
Due to his medical condition, Hassan was transferred to Kanoo Medical Center in July 2021, where he remains. His testing revealed very elevated levels of blood sugar and blood pressure. In addition, he has unclear renal and stomach damage, and eye cyst, and a cardiac muscle disorder. However, he has not been receiving the necessary care and continues to experience several medical difficulties. His condition was exacerbated by inactivity and improper cuisine, which was devoid of vegetables and lacked nutritional content suited to his condition. In addition, he was exposed to disciplinary measures and oppressive psychological pressure.
In addition, Hassan has complained about provocations in the centre, resulting in an altercation with the police in March 2022. Hassan has stayed at the centre so that his medical condition may be monitored. However, his lengthy stay there has been used as a reason to isolate him rather than provide him with the necessary medical treatment since he has been denied the right to phone his family. Hassan has demanded to be sent to Jau Prison, citing his incarceration at the medical centre as "isolation."
Hassan's mistreatment and the restrictions imposed on him in prison and at the Kanoo Medical Center, including the confiscation of his belongings and the denial of phone calls, are clear violations of the United Nations Standard Minimum Rules for the Treatment of Prisoners known as the Nelson Mandela Rules. In addition, Bahrain has breached Article 6 of the International Covenant on Civil and Political Rights by undermining his right to life via medical negligence and by refusing him proper care.
In light of the communications submitted to Bahrain regarding Hassan's condition, Americans for Democracy & Human Rights in Bahrain urges the Bahraini government to cooperate with the United Nations Special Procedures Offices. In addition, ADHRB requests that Hassan, who was unfairly jailed for his nonviolent activism, and all other political prisoners be released immediately and unconditionally. Finally, the ADHRB requests an inquiry into claims of abuse and maltreatment to hold offenders accountable and guarantee that Hassan receives proper and timely medical care and frequent contact with his family via phone calls and visits.