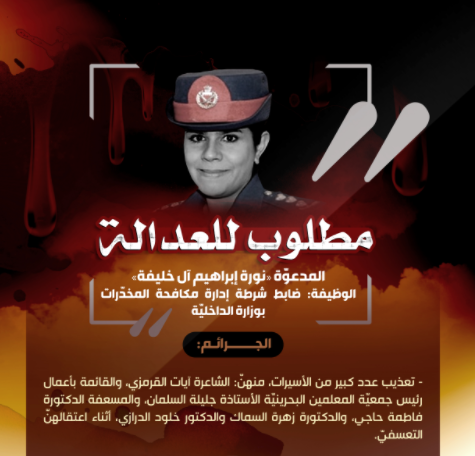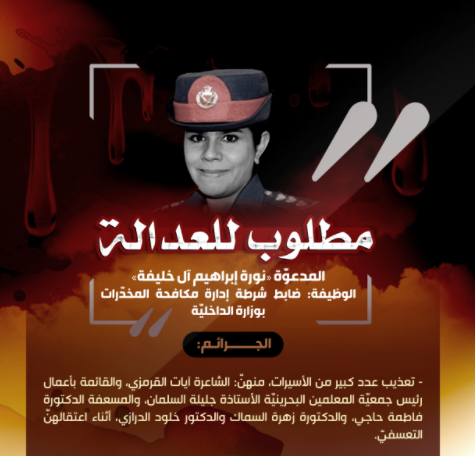 Since the outbreak of the February 14 revolution, the Bahraini princess Noura Al Khalifa became one of the most notorious officers in the country due to her involvement in the repression and torture of political prisoners who participated in protests calling for reform and democracy.
Al Khalifa, 37, is a police officer in the Anti-Narcotics Department of the Ministry of Interior.
She is one of many members of the Bahraini ruling family who hold jobs in the public sector.
One of the most prominent crimes attributed to Noura Al Khalifa is the torture of many female prisoners.
Poet Ayat Al-Qarmazi, Acting President of the Bahrain Teachers Association Jalila Al-Salman, paramedic Dr Fatima Hajji, Dr Zahra Al-Sammak, and Dr Kholoud Al-Darazi were some of the victims tortured during their arbitrary detention.
Noura Al Khalifa was accused of torturing Al-Qarmazi when she was 21 years old.
Al-Qarmazi was arrested in March 2011 after reciting a poem she wrote criticizing the ruling family in Bahrain.
Al-Qarmazi said she was detained for nine days. She was blindfolded, beaten with cables, and threatened with rape. She identified Noura Al Khalifa and accused her of torture.
On one occasion, when she was beaten, the blindfold fell from her eyes, and she was able to see Noura Al Khalifa, which made the latter look very angry when she learned that she had seen her.
These incidents of torture took place in March and April 2011, a period in which Bahrain witnessed unrest following demonstrations calling for democratic changes in the kingdom.
According to data available to Bahraini Leaks, more than 345 women have been arrested since 2011 and subjected to heinous forms of torture, humiliation and degrading treatment in prison, starting from the process of arrest, torture, arrest, unfair trials and permanent harassment.
Among the detainees are 11 doctors, a pharmacist and a nurse whose charges were participating in treating the wounds of those injured by the forces' bullets during the 2011 protests.
In parallel, more than 380 women were subjected to arbitrary dismissal from their jobs in the public and private sectors in Bahrain.
The United Nations celebrates on June 26 of each year the International Day in Support of Victims of Torture to defame the crimes of torture and provide support and honour to victims and survivors worldwide.
This occasion constitutes an opportunity to recall that female political prisoner in Bahrain is subjected to attacks at all stages of criminal proceedings, including arbitrary arrests, physical attacks and psychological torture to extract confessions, illegal trials and an inhumane prison environment.
These attacks are overlooked despite the presence of a supervisory team funded by the US government and the UK, meaning they failed to apprehend the violators and hold them accountable.
A report by Americans for Democracy & Human Rights indicates a high rate of political targeting of women activists and human rights defenders since 2017.
It is clear in the report that two of the women were subjected to severe torture at the hands of state security officers, including sexual assault, torture and rape.
Activist Ibtisam Al-Saegh and Najah Yousef, who was previously detained because of the Bahrain Grand Prix, stated that they were sexually assaulted during the interrogation at the Muharraq complex after they refused to work as informants.
The women revealed that after their arbitrary arrest and three cases of enforced disappearance, they were interrogated without the presence of a lawyer.
These investigations were carried out in the Directorate of Criminal Investigation, State Security and the Investigation Unit in Bahrain. The women accused these institutions of using methods of torture and sexual abuse during the investigation.
Confessions obtained through torture have been used in extrajudicial trials to sentence 6 of the women mentioned in the report.
All the women admitted that they were threatened with beatings, rape and the murder of a family member, and half revealed that they were physically assaulted through beats, kicks and punches, in addition to forms of ill-treatment, including solitary confinement, forced standing, confinement in dark or cold rooms, standing painfully for several hours.