News
Ministry of Interior arrests citizens for attending Barkat funeral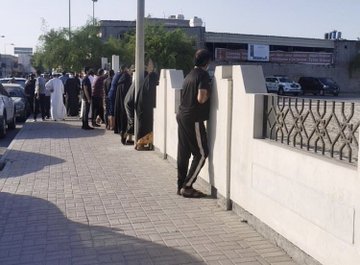 On Friday, the Bahraini Ministry of Interior launched a campaign of arbitrary summons against dozens of citizens on charges of participating in the funeral of the body of the victim of medical negligence in Jaw Central Prison, Hussain Barakat.
Local sources told Bahraini Lakes that the regime forces summoned the citizens on charges of participating in protests in solidarity with Barakat, who died on Wednesday due to the lack of medical care.
The Ministry of the Interior accused the summoned people of not adhering to the preventive measures as part of the response to the Coronavirus.
After they flocked to Abu Anbara cemetery for the deceased's funeral, the regime forces prevented them from entering the cemetery.
Activists refuted the flimsy pretexts used by the Ministry of Interior to summon citizens, recalling that the authorities had turned Bahrain into a quarry and opened borders and ports wide to travellers, even from affected countries.
Bahraini Leaks learned that the regime's apparatus summoned the citizens to come to the Hoora police station as part of the systematic policy of terrorism against peaceful protests.