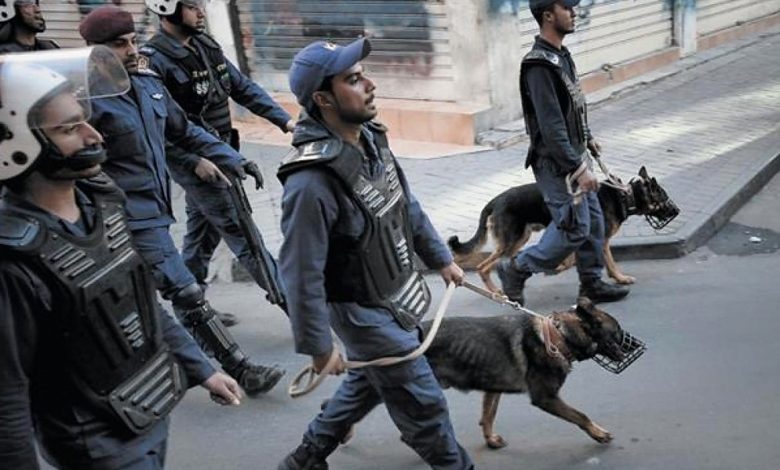 Human rights report exposed the severity of government repression in Bahrain in the face of popular protests against the ruling regime's policies in Manama, including widespread corruption and normalization with Israel.
The Raid Monitoring Network published a report recording the Bahraini authorities' violations, arrests, and acts of repression during October 2021.
The Network said that "with the continuation of the popular movement rejecting normalization with the Israel, various towns and regions in Bahrain witnessed a widespread mobilization of mercenaries."
It stressed that "the authorities suppressed demonstrations with toxic gases, which took place in the beginning of October on the island of Sitra, and also erased slogans condemning normalization from the walls and streets of the towns of Ali and Salmabad."
The Network added that during the month, the regime summoned dozens of citizens from Abu Saiba, Shakhoura, A'ali, Sitra, and Ras Rumman against the background of calls to participate in a significant demonstration from its centre towards the Israeli embassy building.
A group of citizens was arrested against this background, including Ali Muhanna, Sheikh Hamza Al-Hawaj, Majid Abdul-Mohsen, Abdul-Nabi Al-Hawaj, and Ali Hammam. Some of them were released at a later time.
The Network pointed out that the Public Prosecution decided to detain Saeed Khalil Al-Rami and Maytham Habib Ali on charges of participating in demonstrations condemning normalization with Israel.
Hussain Abdul-Nabi, Ali Nasser, Ali Sabt Sayed Muhammad Al-Alawi, Mr. Wadih Al-Wadaei, Abbas Aoun, Elias Youssef Yaqoub, Ali Al-Ekri, Taqi Kwitan, and Youssef Al-Am, were also arrested, and "The unit summonMrmMuhammad Jaafar Alyan".
The Network declared the death of the former political detainee, Ali Qambar, after suffering from cancer, which he contracted during his arrest.
The Network monitored that the authorities summoned the former president of the Bahraini Society for Resisting Normalization with Israel, Mr Ibrahim Kamal al-Din, and his former deputy Ghassan Sarhan to prevent society from holding a solidarity event with Palestinian prisoners in occupation prisons.
Meanwhile, human rights sources revealed the outbreak of the symptoms of the Covid 19 pandemic among detainees in Jaw Central Prison. At the same time, the prison administration deliberately neglected and deprived detainees of treatment and the provision of necessary medical care.
Sources told Bahraini Leaks that the detainees received information about widespread symptoms, high fever, headache, diarrhea, and joint aches, which are similar to the symptoms of influenza and close to the symptoms of corona and its type is not yet known.
They added that the detainees confirmed the return of "scabies disease" among their ranks, and the cases vary, some of them severe, and they have been transferred to isolation.
The sources pointed out that some detainees had to use the means to reduce the temperature, such as taking a cold shower. In contrast, many detainees suffer from hereditary and chronic diseases, some of whom are over fifty years old, which threatens their lives and makes them vulnerable if they are prevented from appropriate medical care.