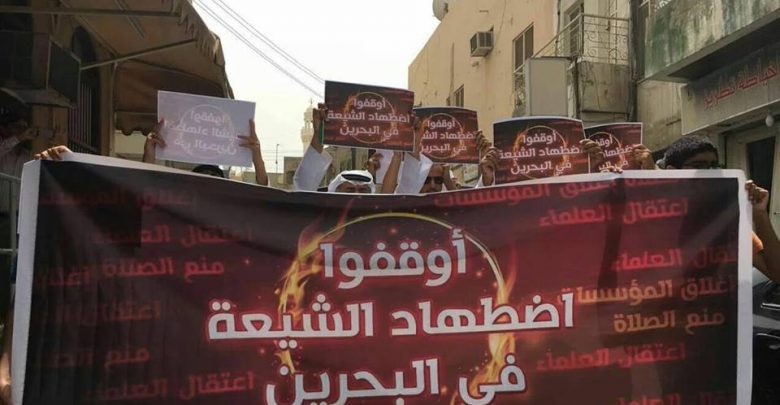 A human rights report monitored the escalation of religious persecution in Bahrain during the commemoration of Ashura.
In a document posted on his Twitter account, Yousef Al-Muhafdah, the Bahrain Center for Human Rights vice-president, said that the Bahraini authorities summoned ten clerics, threatened them and released them later after signing documents they don't know.
The governorate stated that one hundred citizens were summoned for exercising religious freedom, while three hundred religious banners were removed and torn up by security forces and municipal cars.
The Bahraini regime has established a policy of religious persecution in the country against the Shiite citizens, against the background of the Ashura ceremonies.
Bahraini Leaks monitored a series of repressive campaigns against Shiite citizens in Bahrain according to government policies that violate the right to freedom of worship.
The Bahraini security authorities arrested Ali Mansour Al-Mallah and Muhammad Mahdi Deif from the town of Karzakan after they were summoned to the Hoora Police Station.
The security authorities summoned tens of citizens of Hamad Town to the Roundabout 17 Center for investigation on their participation in the Ashura ceremonies.
The vehicles of mercenaries and civilian militias affiliated with the Bahraini Ministry of Interior were monitored on alert on the outskirts of the towns commemorating Ashura.
In addition, they attacked the manifestations of the Ashura ceremonies by removing Husseini banners and banners for several consecutive days.
The Bahraini security authorities summoned many citizens in various cities and towns for raising the Husseini banners on the roofs of their homes and demanded that they be removed.
Mercenaries and civilian militias affiliated with the Bahraini Ministry of Interior had attacked the Husseini banners and Ashura manifestations in several towns and regions before the Ashura season.
This was done with the support of armoured vehicles and military vehicles. Video clips revealed the attacks and the campaigns to remove the Husseini banners in various regions.
These practices implement the systematic policies of sectarian persecution practised by the Bahraini regime amid repeated international human rights condemnation.