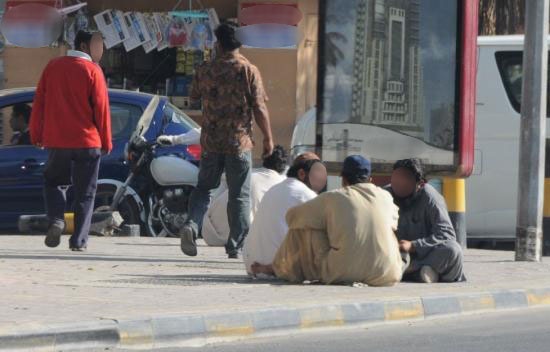 Asian workers suffer from denial of food, forced labour for low wages, physical, psychological and sexual attacks.
These violations affect workers, in the absence of official laws governing their work and ensuring their rights, despite their positive contributions to their hosts' service.
In this context, a 38-year-old woman of Asian nationality was killed by a 46-year-old Bahraini citizen assault.
On Wednesday, the Southern Police Department announced that "personal disputes" were the cause of the fatal assault.
The Directorate stated that it had arrested the killer and that the necessary legal measures are being taken.
Increased violations
Human rights organizations monitor complex human rights violations against migrant workers to Bahrain, beginning from their homes.
Poverty and financial obligations force them to seek better-paying jobs abroad.
READ: U.S. trade zone in Bahrain, a new foothold in the Middle East
More than 458,000 foreign workers in Bahrain make up about 77% of the country's workforce.
Most of them come from South and Southeast Asia, especially from India, Bangladesh, Sri Lanka and the Philippines.
They are hoping to earn better wages and improve the livelihood of their families in their home country.
Bad conditions
Most of these workers come from impoverished, poorly-educated environments, working as masons, brick builders, drivers, housemaids, waitresses, and nannies.
They live in small, dilapidated rooms built of wooden panels. Their small rooms could accommodate nine people.
Workers are exposed to the various types of abuse and exploitation that migrant workers are exposed to by employers in Bahrain.
Besides, they find obstacles and failures that prevent them from seeking an effective remedy for such treatment.
In recent months, hundreds of cases of COVID-19 were recorded, according to data from the Ministry of Health in Bahrain.
Pandemic danger
Dozens of workers are crowded into one room, and they use one bathroom, with their everyday purposes.
Given their living conditions, the transmission of infection between them is much more than Bahrainis.
On March 23, 2020, many Bahraini MPs proposed granting workers a period to correct their illegal conditions and leave Bahrain. To prevent the virus from spreading.
The MPs stated that the huge number formed by the bulk labour, "may lead to the emergence of a focus of the virus outbreak, due to illegal mixing between them.
Exploited or abused migrant workers often want to change jobs or return home.
However, employers generally continue to confiscate their passports upon arrival despite the prohibition of this practice.
Human Rights Watch accused the Bahraini authorities of failing to enforce the ban on confiscating passport.
It documented several violent attacks on South Asian migrants in and around Manama on March 13 and 14, 2011.