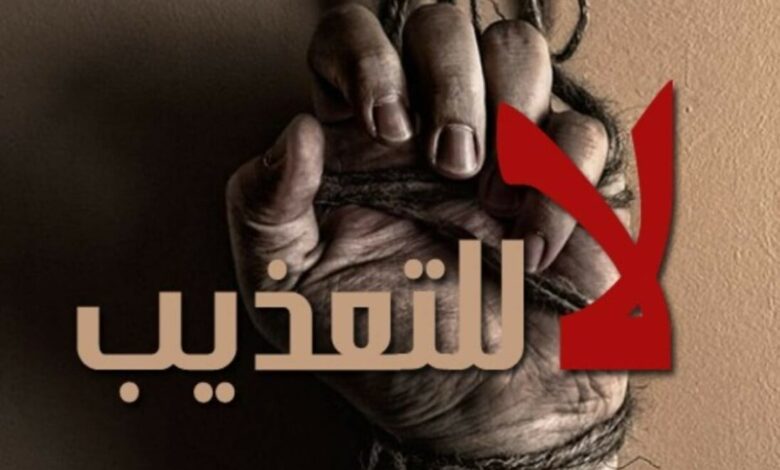 Human rights organizations document alarming cases of torture violations in Bahraini prisons aimed at extracting confessions, as victims lack minimum protection due to the country's repressive regime.
Torture is considered a crime under international law and is completely prohibited according to all international conventions, with no justifications whatsoever. The systematic and widespread torture constitutes a crime against humanity, as affirmed by the United Nations.
In a resolution adopted on December 12, 1997, the General Assembly designated June 26 as the United Nations International Day in Support of Victims of Torture, to eradicate all forms of torture.
Bahrain is obligated to combat torture and other forms of ill-treatment or cruel, inhuman, or degrading punishment under international law. It is also bound to implement the provisions of the Convention against Torture, to which it acceded on March 6, 1998.
However, Bahrain, through its security apparatus, has been employing systematic torture for decades, with numerous cases documented in local and international human rights reports, including the report of the Bahrain Independent Commission of Inquiry.
The Bahrain Center for Human Rights has stated that many detainees have reported being subjected to torture either to extract confessions or as punishment for their participation in peaceful protests.
They further revealed that various forms of physical and psychological torture against detainees are practiced in different police stations, security headquarters, and detention centres.
In its various forms, torture is considered one of the most severe human rights violations. On July 31, 2016, Bahraini citizen Hassan Jassim Hassan Al-Hayki, 35 years old, died in custody due to injuries sustained during torture in the Criminal Investigations Directorate.
According to his family, Al-Hayki had informed the Public Prosecution of being subjected to torture. Instead of investigating his claims, he was ordered to be returned to the Criminal Investigations Directorate, reinforcing a policy of impunity.
The Bahrain Center for Human Rights has called on member states of the United Nations to pressure the authorities to support thousands of individuals in Bahrain who have been victims of torture and to support those who continue to be subjected to torture to this day in detention centers to extract confessions.
Expressing deep concern over the ongoing torture in Bahrain, particularly in investigative premises for coerced confessions, the center demanded that the Bahraini authorities allow the visit of the UN Special Rapporteur on Torture, Alice Gill Edwards.
The center urged for the cessation of torture within prisons, the release of all prisoners of conscience, including prominent academic Dr. Abduljalil Al-Singace, who spent nearly two years on a hunger strike demanding the return of his confiscated cultural research by the authorities at Jaw Prison, and prominent human rights activist Abdulhadi Al-Khawaja.
Furthermore, the center called for efforts to put an end to torture in Bahrain and the prevailing culture of impunity, as well as the initiation of independent investigations into all allegations of torture and ill-treatment.