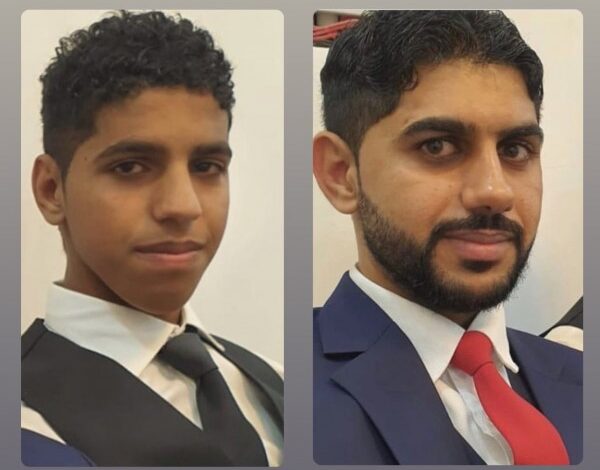 In a new violation of children's most basic rights and an expression of the severity of repression in Bahrain, two brothers, including a child, were sentenced to 10 and 15 years in prison without legal basis.
The Fourth High Criminal Court sentenced the 17-year-old minor, Jaafar Jassim Habib Jassim, to 10 years in prison, and his brother, 28-year-old Muhammad Jassim Habib Jassem, to 15 years in prison.
The security authorities arrested the two Jassem brothers on charges of attempting to detonate a cylinder that did not explode in the first place, but during the period of interrogation and torture, they were subjected to new and more serious charges were installed against them.
The older brother, Mohammed Jassim, who was sentenced to 15 years in prison, is a former political detainee, as he was released from prison in 2019 after completing five years due to a ruling issued against him for a political reason.
The court's ruling was issued by Judge Badr Abdul Latif Al-Abdullah, who is of Afghani descent and has previously issued several harsh sentences.
Al-Abdullah had previously issued in 2019 stripping the Bahraini citizenship from 138 Bahrainis in some political cases.
At the end of last year, the Human Rights Forum revealed shocking human rights documentation of violations against children in Bahrain, which exceeded 655 violations during the last three years.
On International Children's Day, the Bahrain Forum for Human Rights published statistics showing some of the massive violations committed by the political authorities against children for political reasons from the beginning of 2018 to the end of the sixth month of 2021.
An official from the Bahrain Forum for Human Rights said that during the last year and a half, from January 01, 2020, to June 30, 2021, the number of security calls for children reached (15) cases.
The official referred forum's statistics, and according to the figures, the total number of violations practised against children during this period amounted to 655 violations.
These violations were distributed as follows: summonses (15) cases of enforced disappearance (51) cases, arrests (322 cases), the number of arbitrary sentences (93) cases, the total number of violations in prisons (87) cases distributed as follows: Torture (8) cases, ill-treatment (57) cases, denial of treatment (7) cases, deprivation of education (15) cases.
It is noteworthy that young political detainees in Dry Dock Prison are currently on a hunger strike to protest the poor conditions inside the prison, especially the inhumane treatment and health neglect of sick prisoners.