News
Bahrain intimidates foreign diplomats to prevent contact with the opposition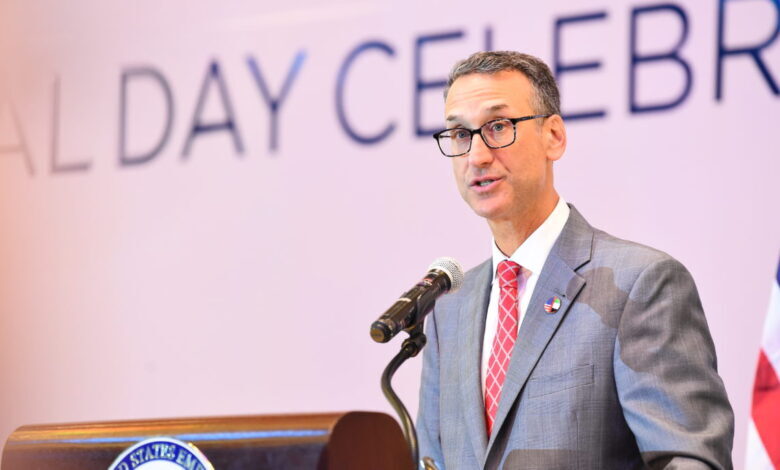 American circles said that the Al-Khulaifi regime is practicing deliberate government intimidation against foreign diplomats to prevent them from having any contact with opposition figures and civil society organizations in the country.
The American news website Axios reported that the regime in Bahrain punished the new US ambassador to Manama, Stephen Bundy, after he met a number of activists and representatives of some civil society associations in the Kingdom.
The website stated that Bundy had entered into a diplomatic dispute with the Bahraini government, after his second week of taking office, and he had received a group of civil society and human rights activists.
He referred to the Bahraini government's concerns about this meeting, especially as it has become very sensitive about Western governments' sympathy with members of the opposition since the start of the Arab Spring revolutions in 2011, and after the administration of former US President Barack Obama supported the anti-government protests in the country and pressured it for reforms.
The website pointed out that the protests that took place in Bahrain in February 2011, came with a majority of the Bahraini people to demand more civil and political freedoms, which the authorities met with crackdowns against them, and accusations leveled at Iran of fueling them.
He added that the US ambassador's meeting with Bahraini activists discussed the difficulties faced by civil society in Bahrain, the escalation of government repression, and the authorities' increasing use of the death penalty, which was met with sharp criticism from the official media and writers loyal to the Khalifa regime.
The website referred to the statement of Bahrain's Interior Minister Rashid Abdullah Al-Khalifa, in which he accused the US ambassador of interfering in the country's affairs, bringing back memories of the events of 2011.
The US ambassador was also summoned to meet with Foreign Minister Abdul Latif Al-Zayani, who told him that the meeting with the activists "contradicts international laws and norms," and stressed "the need to observe the sovereignty of countries and not to interfere in the internal affairs of the country."
The Crown Prince of Bahrain, Prime Minister Salman Hamad Al Khalifa, met a few days later with the US ambassador in Manama to ease the atmosphere between the two countries, while the Bahraini Foreign Ministry declined to comment.
Americans for Democracy & Human Rights in Bahrain had previously called on the new US ambassador to Bahrain, Stephen Bundy, to place human rights at the heart of the US agenda.
The human rights organization pointed out that Bahrain is a country that flagrantly violates the rights of its people, according to the US State Department and major human rights organizations.
"In the wake of President Biden's Summit for Democracy, it is time for the United States to stop ignoring it and demand the government of Bahrain to put an immediate end to human rights violations against the Bahraini people," said Hussain Abdullah, executive director of the organization.
Abdullah added, "The position of Ambassador Bundy from day one should be a means of pressing for immediate and far-reaching improvements in the field of human rights in Bahrain. The human rights situation in Bahrain will be the yardstick to measure his success or failure as an ambassador."