Human rights violations
In solidarity with prisoners of conscience, human rights defenders protest at Bahrain's embassy in London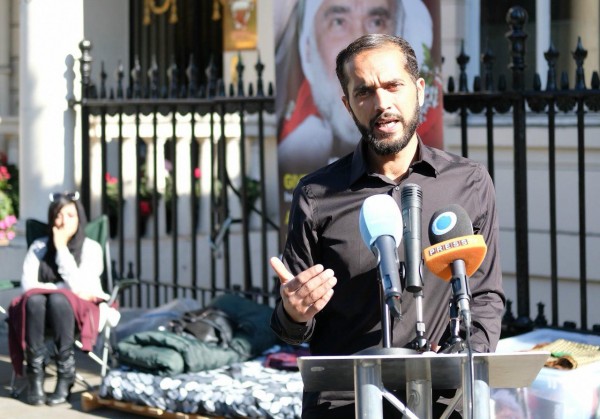 Human rights activist Ali Mushaima announced the launch of a week-long protest in front of the Bahrain embassy in London in solidarity with the Bahraini prisoners of conscience.
Mushaima said that the protest will start on Monday and be followed by a hunger strike in solidarity with academic prisoner of conscience Abdul Jalil Al-Singace. He also demands his father's release, the leader of the Haq movement, Hassan Mushaima, sentenced to life imprisonment in Bahrain.
Mushaima tweeted, "I decided to start protest steps, in which I will join Dr Abdul Jalil Al-Singace in his hunger strike."
"I will sit on the side of the road starving to demand freedom for Al-Singace and to my father, Professor Hassan Mushaima, who is a sick old man. His unjust imprisonment has become a real threat to his life."
"I will hold a protest in front of the Bahrain embassy on Monday, November 15, for a week, during official working hours, and then enter the strike the following week."
In 2019, Ali Mushaima went on a hunger strike for 46 days, during which he slept on the ground in front of the Bahrain embassy in London.
Mushaima's sit-in enjoyed massive support at the time; well-known activists worldwide visited him to show solidarity, and some of them spent a night with him outside the embassy.
On September 15, 2019, Ali Mushaima announced the end of his hunger strike after medical advice and promised that his father would receive treatment.
Meanwhile, Al-Singace, who has been sentenced to life imprisonment, has continued his hunger strike for more than four months in protest of the confiscation of his research, which he spent four years writing.
Bahraini activists launched a media campaign on social media in support of the case of Al-Singace, whose life is in danger.
Al-Singace, a professor at the University of Bahrain, was a human rights activist and blogger until 2011, when he was arrested for participating in the Pearl Roundabout protests. He is one of a group (Bahrain 13) that includes political leaders arrested for their role in the democratic movement in Bahrain in the year 2011.
This is the third Twitter campaign organized in solidarity with Al-Singace. The campaign began with video clips of activists that they broadcast on social media.
Jurist Ahmed Al-Wadaei said, "The hashtag #FreedomForSingace surpassed millions of views on Twitter in the past ten days."
Rights groups say that Al-Singace's weight has decreased by more than 20 kilograms, and his health is in great danger. He went on a hunger strike due to the confiscation of his research and the continued harassment of Jaw prison guards who listen in on his phone calls with his relatives and regularly cut the line without warning.
Al-Wadaei reports worrying developments about Al-Singace's condition: "He is subjected to bouts of rotation and loss of balance, swelling is evident in his hands, and his body is cold. A member of his family says their heart is breaking when they see him like this."
Jawad Fairouz, head of the Salam Organization for Human Rights, published a video clip in which he said: "I stand in solidarity with Dr Abdul-Jalil Al-Singace, all opposition leaders and the rest of the prisoners of conscience in Bahrain."
Human rights defender Ibtisam Al-Sayegh warned of the danger to Al-Singace's life: "Dr Abdul-Jalil Al-Singace has been on hunger strike for 125 days. He is closer to danger, and we are closer to losing him."
Activist Najah Youssef said that "Al-Singace's open strike after the confiscation of his most basic rights (humane treatment and his scientific research) is a reality that exposes all headlines and the gossip of the official media and the applause of official human rights institutions that boast of fictitious human rights achievements at the expense of moral values ​​and humanitarian principles."