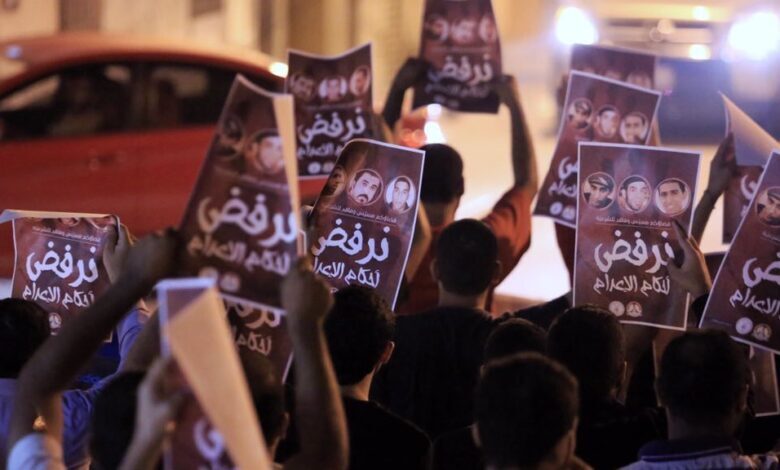 Death sentences were known to have been imposed after proceedings that did not meet international fair trial standards, according to Amnesty's "Death Sentences and Executions 2020" report.
"Confessions" that may have been extracted through torture or other ill-treatment were used to convict and sentence people to death in Bahrain.
The two men were convicted of killing a policeman in 2014 following a grossly unfair trial.
Their 2015 final death sentence verdict was subject to a retrial following medical records attesting to the men's torture, which were submitted by the Special Investigation Unit affiliated to the Ministry of Health.
The men had exhausted all rights of appeal and became at risk of execution.
Amnesty International added that Bahrain is among the countries that retain the death penalty for ordinary crimes.
Amnesty indicated that the United Nations General Assembly adopted a resolution on stopping the use of the death penalty.
The resolution was adopted by an overwhelming majority of the member states of the United Nations, and Bahrain voted to reject the resolution.
Recently, the European Union Special Representative for Human Rights, Eamon Gilmore, called on the Bahraini authorities to abolish the death sentences issued against a number of political detainees in the country.
Glimore stressed the necessity of Bahrain's commitment to its international obligations, including the International Covenant on Civil and Political Rights and the Convention against Torture and Other Forms of Treatment.
Bahraini authorities are blatantly using the judiciary to liquidate activists and political opponents by issuing dozens of death sentences against them.
The regime authorities resorted to this tool as a deterrent after suppressing the popular protests that began in 2011.
Many of the death sentences are awaiting approval by the King of Bahrain, Hamad bin Isa Al Khalifa, before implementation.
Many testimonies were issued to detainees sentenced to death, as conditions in prisons lack the minimum standards of health care.
Since the start of the popular protests, Bahraini courts have issued more than 1,100 political court rulings, including 30 death sentences and 130 life sentences.
Meanwhile, more than 300 Bahrainis had their citizenship revoked.
"On November 2, 2017, I was arrested on charges of participating in the killing of members of the security forces, and was held for 55 days in solitary confinement," said Zuhair Abdullah.
"During my detention, I was subjected to various forms of torture and ill-treatment. I was electrocuted, sexually harassed and severely beaten," he added.
"Also during my detention, my wife was beaten while she was in her house by a group of officers, and they threatened her with rape. This is in order to pressure me to sign the confessions prepared in advance by the security authorities," he continues.
"After 13 days of detention, torture and inhuman treatment, I signed a forced confession that includes a series of charges, including joining terrorist groups, participating in killing security personnel and making explosives," he adds.
Usually, the legal system in Bahrain submits the entire judiciary to the authority of the king, stripping the judiciary of its most important characteristic, which is independence.
This explains the unfair death sentences against activists without providing them with fair trial guarantees approved by national and international laws alike.
There are fears for the lives of 12 Bahraini detainees who have been sentenced to death and await the king's approval for their implementation.
The Bahraini authorities do not allow the United Nations special rapporteur on torture to visit the kingdom.
Recently, Reprieve, a Britain-based human rights group, launched an electronic petition calling for a moratorium on executions issued in Bahrain. In particular, it singled out death sentences against political activists whose confessions were extracted under torture.
Since 2012, all death sentences were upheld in Bahrain although confessions were extracted under torture.
The petition focused on the risk of execution facing activists Muhammad Ramadan and Hussein Musa, who were forced to make confessions under torture that were used to convict them.
Reprieve called on Bahrain to stop executing its political opponents and urged the UK Government to end its assistance to Bahrain's death penalty system and take steps to prevent Ramanan and Musa's execution.