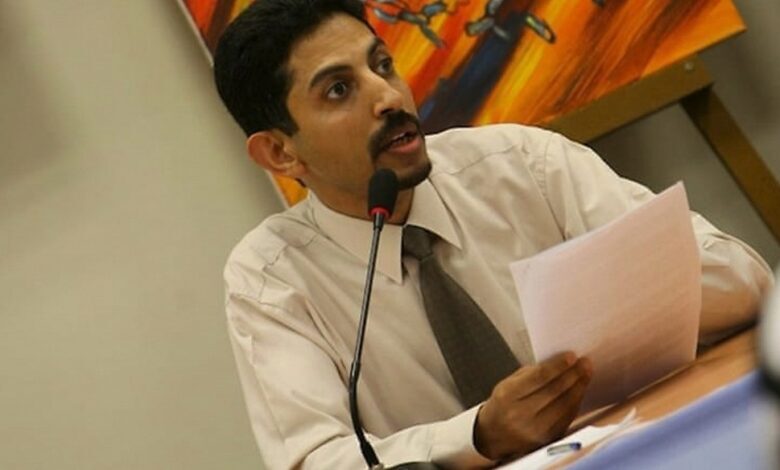 The Gulf Center for Human Rights started a human rights petition in solidarity with Abdulhadi Al-Khawaja, the detained human rights activist in Bahrain.
The human rights centre said, "We call on you to show solidarity with the prominent human rights defender Abdulhadi Al-Khawaja, who has already spent ten years in prison."
The Center urged for broad participation in the human rights petition directed to the Danish Prime Minister to request her assistance to release Al-Khawaja.
Torture and strikes
Al-Khawaja is a Bahraini Danish human rights activist and former president of the Bahrain Center for Human Rights and one of its founders.
He held several positions in regional and international human rights organizations. Until February 2011 Al-Khawaja was the regional coordinator of Front Line.
He is a member of the Advisory Committee of the Damascus Center for Human Rights Studies.
He also participated in the Amnesty International Fact-Finding Committee after the invasion of Iraq.
Al-Khawaja participated in the Bahraini protests that accompanied the Arab Spring by educating protesters on human rights issues.
On April 9, 2011, masked police officers arrested him and his two daughters' husband, and he was severely beaten during his arrest.
A military court sentenced him to life imprisonment in the G-21 case for "a conspiracy to overthrow the government and intelligence with a terrorist organization working for the benefit of a foreign country."
The moot court sentenced him to life in prison in June 2011 along with several opposition figures.
Since his arrest, he has waged several hunger strikes in prison, one of which began on January 29, 2012, in protest at the harsh treatment he was subjected to by prison investigators.
Malicious charges
Local and international human rights organizations confirm that the Khilafiyya regime's prisons are filled with more than 4,000 detainees on the grounds of opinion and expression and demanding political reforms.
They were tried in courts that lost their legitimacy politically and were accused of fabricated maliciousness.
Some of them reached death sentences and life sentences, with their nationality revoked, with confessions extracted under torture.
Political detainees, who include women, suffer from overcrowding, willful medical neglect and poor food provided to them.
Human rights organizations warn that many detainees are exposed to imminent execution of death sentences, while only the king of the regime, Hamad bin Issa, will be approved.