Human rights violations
Bahrain: 10 years on, pro-democracy movement has been crushed
The sense of optimism that spurred on demonstrators on 14 February 2011 has been obliterated as foreign governments continue to acquiesce to a decade-long crackdown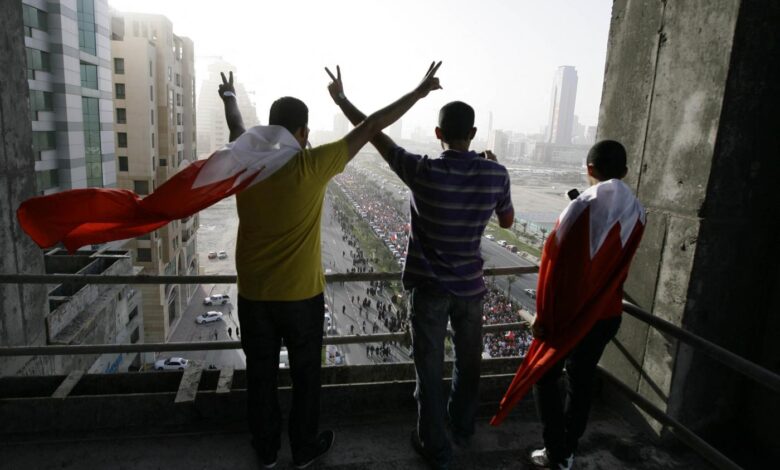 In his recent book A Promised Land, former US president Barack Obama reflects on his time as leader of the free world at a moment when the Middle East was erupting in a cascade of demonstrations that would come to be known as the Arab Spring.
In the book, Obama discusses how he tried to ease Hosni Mubarak out of Egypt as the 2011 uprisings seemed poised to topple his administration, despite the autocrat's well-established relationship with the US. After Mubarak's removal, Obama notes that he was "cautiously optimistic" about the country's future.
With two more countries engulfed by the Arab Spring, Libya and Syria, he was more forthright, launching or threatening to launch military interventions to remove their long-standing autocrats. In another, Yemen, he helped oversee a transition to remove another ailing administration.
But when it comes to the small Gulf kingdom of Bahrain, which despite its size had managed to grab headlines with mass demonstrations against the embattled Khalifa monarchy, Obama doesn't split hairs about where the US stood.
"In concert with the Saudis and the Emiratis, the Bahraini regime was going to force us to make a choice, and all were aware that when push came to shove, we couldn't afford to risk our strategic position in the Middle East by severing relations with three Gulf countries," he writes.
In the 10 years since Bahrain was shaken by pro-democracy protests, the government has brutally crushed all dissent while the world powers have largely looked on and done nothing.
The 14 February "Day of Rage" that marked the beginning of the major country-wide demonstrations saw tens of thousands of people pour out onto the country's streets calling for democratic reforms, an end to discrimination against the majority Shia Muslim population and, eventually, the end of the 245-year-old rule of the House of Khalifa.
Today, the figures who led those protests and were hailed as the future of democracy in the Gulf are either in jail, silenced, in exile or dead.
What had once been viewed as perhaps the most liberal and relatively pluralistic country in the Gulf is now described by campaigners as a "police state".
A new report compiled by the London-based campaign group Bahrain Institute for Rights and Democracy (BIRD), and shared with Middle East Eye ahead of its release for the 10th anniversary of the uprising on Monday, said that since 2011 at least 51 people have been sentenced to death in Bahrain.
Just nine executions had been carried out between the independence of the state in 1971 and 2017, but six were carried out in the two-and-a-half years following that. Twenty-seven people are currently on death row in the kingdom, with 26 at risk of imminent execution.
There are thought to be around 4,000 political prisoners in the country's heavily stretched jail system, while torture is rife.
A leading Bahraini activist and lawyer, who has previously spent time in prison and asked for anonymity so as not to risk another sentence, told MEE that even the most modest criticisms were being ruthlessly stamped out in the kingdom.
"We can't speak. You won't find any single society or movement, or women's association or trade or legal association, which can function inside Bahrain," he said.
"There is no society which can organise a single lecture or a single gathering or a conference for anything, except what the regime accepts."
Although the activist said he wanted to continue speaking out openly about the injustices in Bahrain, he felt there was no possibility of doing so without facing prison time. "I have to raise my kids," he explained.
'We can't speak. You won't find any single society or a movement, or women's association or trade or legal association which can function inside Bahrain'
– Lawyer and activist
Speaking to MEE from prison in Bahrain, where he has spent eight years as an inmate following his arrest for taking part in pro-democracy protests, Ali Hussain Haji said the situation in the country was currently the worst since 2011.
He described torture and abuse as still commonplace in Jau Central prison, where he has spent most of his sentence. Since Haji's arrest in 2013, brutal ill-treatment has left him with partial deafness and permanent damage to his jaw and testicles, as well as a broken nose that has required two operations to fix.
"My experience of eight years of prison is maltreatment and physical and mental abuse as a form of punitive measures," he told MEE by phone.
"There is discrimination against political prisoners – the discrimination involves lack of proper healthcare, putting the lives of many political prisoners at great risk."
Ten years on, the situation for pro-democracy activists in the country can seem pretty grim, though the problems that sparked the original uprising have not gone away and privately anger is beginning to mount.
"We were asking for change, some positive change, after more than 240 years," said Haji. "Now no one can talk, no freedom of speech – nothing."
'Hope was at its peak'
Like most Gulf states, money began pouring into Bahrain's coffers after the discovery of oil in 1932, cash that over the next several decades would transform the economy and society of the kingdom, which had previously been primarily dedicated to pearl fishing.
Unlike its neighbours, however, there were comparatively few attempts to bind the citizens of the kingdom to their rulers through the kind of rentier capitalism that the United Arab Emirates, Saudi Arabia and Qatar pursued.
In fact, the Khalifa family, who founded Bahrain in 1783, has been accused of existing in an antagonistic relationship with its subjects.
According to academics Ala'a al-Shehabi and Marc Owen Jones in their 2015 book Bahrain's Uprising: Resistance and Repression in the Gulf, the Khalifas have long cultivated a "ruling core" that allowed the family to engaged in a kleptocratic "exclusionary politics" with regards to the rest of the nation.
As Sunni Muslims and non-members of the majority Bahrana ethnic group, sectarianism has been seen as playing a pivotal role in the monarchy's grip on power, and is believed to have contributed to widespread inequalities in wealth and power across the kingdom.
While the other Gulf states were able to tamp down anti-government protests through a mixture of concessions and repression, Bahrain's rulers found themselves sitting on top of a powder keg they couldn't control. Eventually, their bigger neighbours Saudi Arabia and the UAE had to send their own security forces to the quell the 2011 uprising.
BIRD's director Sayed Alwadaei remembers the sense of optimism that pervaded the demonstrators, after seeing longtime rulers Zine El Abidine Ben Ali in Tunisia and Mubarak in Egypt being turfed out of power.
"This was the feeling throughout the Arab world – if it can be done in Tunisia, if Hosni Mubarak can fall within 18 days, maybe also the Khalifas. This is our golden opportunity," he recalled.
Alwadaei was present "from day one" at the anti-government demonstrations and remembers a combination of hope and anger among the protesters, particularly in the wake of the killing of four demonstrators and the wounding of hundreds more by spooked security forces on 17 February.
"In 2011, optimism and hope were at their peak. There was no fear no matter how aggressively or harshly the government would resort to violence, people were determined," he said.
'In 2011, optimism and hope were at their peak. There was no fear no matter how aggressively or harshly the government would resort to violence, people were determined'
– Sayed Alwadaei, BIRD
A Bahraini media worker, who did not want to be identified due to fear of reprisal, said the turnout on 14 February had surprised even the organisers. Though there had been sporadic protests in the 1990s and 2000s, nothing had been seen on this scale.
"A day before 14 February, most people didn't think it was going to happen," he told MEE.
Unsettled by events in Tunisia and Egypt and fearing imitation protests, the government had already begun rounding up activists prior to the call for major demonstrations.
When it did come, the numbers spoke of an overwhelming discontent among the Bahraini population, with 55 marches taking place in 25 locations across the country.
Participants ranged from ordinary civilians to supporters of the conservative Shia al-Wefaq society – then the largest opposition group in the kingdom – and the secular left-wing Waad organisation, led by veteran Sunni leftist Ebrahim Sharif.
Following outcry at the police's killing of protester Ali Mushaima, demonstrators occupied the central Pearl Roundabout in Manama on 15 February.
"As someone who was there, the number of people who took the roundabout didn't exceed 50 people… we were not expecting anything to happen and then all of a sudden 50 protesters appeared, pushed through police lines and took it," said the media worker.
"When they took the roundabout the first day, there was no crackdown, police did back off – they didn't have the numbers to hold it. When the first 50 people took the roundabout, within a couple of hours we had thousands in that square."
The crackdown begins
When the crackdown hit, it hit hard. According to some estimates as many as 100,000 people had gathered at the Pearl Roundabout by 23 February, roughly a sixth of the total citizenship of the country, making it the largest per capita demonstration of the Arab Spring.
With the Bahraini security services unable to contain the protests, Emirati and Saudi forces entered the country on 14 March and within a few days they had cleared the roundabout, at the cost of five lives and with hundreds wounded and arrested.
What followed was a campaign of repression that has largely continued unabated up to the present day.
According to the BIRD report, mass trials have become "commonplace" in the country, with 167 people sentenced in a single day in February 2019. Hundreds of activists have seen their citizenship stripped by the kingdom, with an estimated 300 currently denaturalised, including Alwadaei.
In 2020 alone, 10 death sentences were upheld by Bahrain's highest Court of Cassation, including for four Bahrainis convicted on "charges related to political unrest".
Maryam al-Khawaja's father, Abdulhadi, was one of the first high-profile arrests following the beginning of the demonstrations.
Previously president of the Bahrain Centre for Human Rights, he has now been in prison for just under 10 years, serving a life sentence for "organising and managing a terrorist organisation," among other charges.
Speaking to MEE, his daughter said the family's access to him was still highly sporadic.
"He does now have video calls because since January 2020 they've stopped all family visits under the reasoning of Covid-19. But that being said, as with everything that is done in Bahrain, nothing is done with actual protocol," she said.
"You can never expect what's going to happen; you might have a call this week but then next week there isn't a call. So nothing is ever set in stone."
Khawaja has herself become one of the most prominent voices internationally for the Bahraini democracy movement. It's a profile that has forced her to live in exile due to a sentence she received in absentia for allegedly assaulting a police officer.
"What we see today is what you could call a stalemate, but it goes beyond that because it's a situation that cannot continue the way that is it. There is absolute control over everything with regards to public space, access to freedoms and so on," she said.
The aftermath of the crackdown has seen Bahrain's limited political plurality snuffed out. Al-Wefaq's leader, Ali Salman, was arrested in December 2014 and later sentenced to life in prison. The organisation itself, previously tolerated by the monarchy, was officialy dissolved in 2016.
Ebrahim Sharif, who had gained prominence as one of the main non-Shia democracy activists, was also arrested and spent five years in prison. Waad was later banned in 2017 over suspected links to terrorism.
Nabeel Rajab, who co-founded the Bahrain Centre for Human Rights and is arguably the most well-known pro-democracy advocate in the country, was arrested numerous times in the wake of the protests.
Speaking to MEE in 2014, he said the world was coming to realise Bahrainis were "living in a dictatorship in terms of laws, in terms of measures, all institutions".
"It is very clear to the public opinion and international community that there is a country that discriminates and marginalises their indigenous population and does not have a system that respects human rights," he said.
He was later re-arrested and sentenced to two years in jail in 2017 for "disseminating false news," and then five years in 2018 for "offending national institutions" and "spreading rumours during wartime," in reference to Bahrain's involvement in the war in Yemen.
Rajab has since been released from jail over concerns about the spread of Covid-19 in prisons.
Khawaja said the authorities in Bahrain were still attempting to break prisoners' morale, including by removing books and writing materials, which she said was "intellectual torture" for her father.
"They've now allowed him access to some limited books, but not in the way he was before. So it's an ongoing effort where they're constantly trying to find new ways to break their morale or make life more difficult for them inside prison cells."
'Steps in the right direction'
In an attempt to appease the demonstrators and present an image of reform to outside observers, the Bahrain Independent Commission of Inquiry (BICI) was established by the king in June 2011.
Taking in thousands of testimonies, the inquiry documented 46 deaths, 559 allegations of torture, and more than 4,000 examples of employees being sacked for taking part in demonstrations.
The US, UK and other foreign powers praised the government for carrying out the investigation and called for the swift implementation of the report's recommendations, which included reform of the security services and the creation of bodies to hold police and the interior ministry accountable.
'The US and UK's support is the main reason behind the political stalemate in Bahrain'
– Ali Hussain Haji, prisoner
Ten years on, though, few activists believe that any real reform has been carried out and many believe the BICI report was largely an attempt to allow the Bahraini government to maintain a cordial relationship with its foreign allies, who could point to a reform process when questioned about the kingdom's rights record.
Khawaja described the BICI as "window dressing," pointing out that many of those whose cases of torture and abuse were listed in the report had received no change in status as a result of its publication.
"You have these cases with explicit detail of the physical, psychological and sexual torture these individuals were subjected to that was printed in a report that was accepted by the government – and a number of those individuals continue to serve life sentences," she said.
More than any other country, the UK has worked to protect Bahrain's reputation overseas. In December 2014, the UK announced the establishment of a permanent naval base at Mina Salman port, which was opened in 2018.
Philip Hammond, then Britain's foreign minister, described it as "a watershed moment in the UK's commitment to the region" at the time of the initial announcement. That same month, Al-Wefaq's Ali Salman was arrested in what Amnesty called "an affront to freedom of expression".
As recently as May 2020, the British government has promoted the idea that Bahrain has been carrying out reforms, with foreign office minister Tariq Ahmed stating in the House of Commons that the UK continued to "believe that Bahrain is taking steps in the right direction to improve its human rights record, in line with the government's plan, which built on the reform recommendations set out in the 2012 BICI report".
Only two months later there would be international outcry over the proposed execution of two protesters, Mohamed Ramadhan and Hussain Ali Moosa, following trials that human rights groups said were tainted by allegations of torture.
Torture allegations in the country are supposed to be investigated by two bodies, the Special Investigations Unit (SIU) and the interior minister's ombudsman office, which have been described by the United Nations Committee Against Torture as ineffective and lacking independence. Both bodies received training and support from the UK.
Britain's then foreign secretary Philip Hammond (L) speaks with Bahrain's Foreign Minister Khalid bin Ahmed al-Khalifa in Jeddah in 2016 (AFP)
"The US and UK's support is the main reason behind the political stalemate in Bahrain," said Haji.
"They supported the heavy-handed security crackdown and as a result all of the human rights activists and political leaders have been detained, tortured and given heavy-handed sentences."
Khawaja hopes Britain's exit from the European Union will diminish its status and therefore its support for the Bahrain government.
"Having the UK leave the EU was a breath of fresh air for us, because the UK was extremely obstructive when it came to holding the Gulf Cooperation Council [GCC] accountable within the EU. So we're hoping now that the UK is no longer part of the EU, we might able to raise pressure for the EU to actually do something," she said.
Crisis and change?
Although Obama did little in practice to hold Bahrain's government accountable for cracking down on the pro-democracy movement, under his successor, Donald Trump, the climate for activists plumbed new depths.
The very limited restrictions on arms sales imposed on Bahrain by the Obama administration were lifted. In May 2017, Trump promised a reset in relations.
"Our countries have a wonderful relationship together, but there has been a little strain – but there won't be strain with this administration," the Republican president said during a photo session with Bahrain's King Hamad in Riyadh.
'The media focuses on it because it's an anniversary – but for the people who are involved, they say we are living it every day'
– Media worker
Trump later arranged the signing of a normalisation deal between Bahrain and Israel, a move that sparked demonstrations in the kingdom.
Asked about his hopes for positive change, the lawyer was fairly unequivocal.
"No way. Unless there is a huge change in the attitude of the regime, I don't know what will change," he said.
Diplomats he had spoken to in past were frank about where the power dynamic lay in the region.
"The Americans told me honestly: 'we can't affect change in Bahrain unless the British agree. And the British won't agree unless the Saudis agree'," he said.
"It is clear that since 2011 our political decisions have been transfered to Saudi Arabia and it will continue there."
The political landscape has shifted once again, however. New US President Joe Biden (who was vice president under Obama) has shown more willingness to apply pressure to Gulf governments, and last week announced an end to active support for Saudi-led war in Yemen.
In the wake of the announcement, Saudi Arabia has seemingly sought to rid itself of some human rights headaches, releasing women's rights activist Loujain al-Hathloul on Thursday and commuting a death sentence for imprisoned activist Ali al-Nimr.
Another shift was the death of Bahrain's "divisive" prime minister Khalifa bin Salman Al Khalifa in November and his replacement with Crown Prince Salman bin Hamad Al Khalifa, who had previously been involved in negotiations with some elements of the opposition during the protests.
In the third quarter of 2020, Bahrain's real gross domestic product declined by 6.9 percent year on year. The impact of Covid-19 (which prompted further restrictions from late January) combined with a collapse in oil prices has heavily damaged the kingdom's economy and further exacerbated economic insecurity among its citizens.
Despite the cautious attitude being taken by many protesters, eyewitnesses say police have been out in force in the streets of Bahrain in the past week, anticipating unrest.
However, the media worker said that, although there were sporadic demonstrations across Bahrain, he did not necessarily expect major protests on 14 February as many activists were still waiting to see the outcome of the political changes.
"Most people are expecting a political solution with the crown prince in power. Most opposition won't admit it, but they have high hopes for this crown prince," he said.
According to the media worker, the main opposition parties had also not put out a call for demonstrations, because of concerns over the Covid-19 pandemic, which has seen more than 100,000 cases and almost 400 deaths in the tiny country.
The date didn't necessarily hold that much significance for Bahrainis anyway in terms of protests, he added.
"The media focuses on it because it's an anniversary – but for the people who are involved, they say 'we are living it every day'."
Source: Middle East Eye