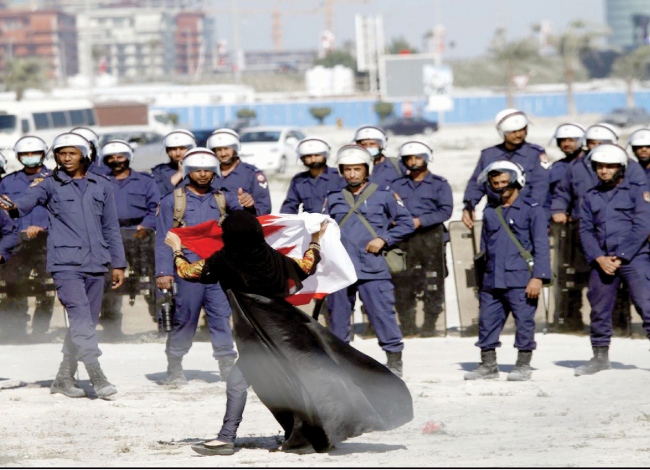 Several reports and studies dealing with political freedom in some countries were issued this month, including Bahrain.
Human Rights Watch issued a report titled False Freedom – Electronic Censorship in the Middle East and North Africa, which dealt with online policy criteria such as freedom of expression and information exchange through electronic means, personal privacy, anonymity and encryption, assigning responsibility. In electronic contents, and Internet cafes.
Cyber suppression
The report shed light on the Bahraini regime's attempts to control websites communications with the masses by various means, such as blocking them from those residing in Bahrain at times and requesting those in charge of the sites to register with the Ministry of Information at other times.
It also pointed out that the various websites were closed, namely the Bahrain Forum – Bahrain Online – and three of its supervisors were arrested on charges of criticizing Sheikh Hamad bin Isa and his family.
On the other hand, the Economist Intelligence Center issued a study on political freedom in Middle Eastern countries using a 10-point scale.
READ: Bahraini Foreign Minister meets newspapers' editors to thwart the Gulf reconciliation
Analysts concluded that the signs of democratization are few in some countries, indicating resistance to real reform.
The Bahrain Political Freedom Index came at the bottom of the list with 3.85 points.
Analysts emphasized what the Bahraini opposition is raising about, that there is no real reform to mention, but rather misleading on the internal and external levels.
Activists silencing
The Bahraini regime curbs activists, opponents, and activist institutions, using the arsenal of arbitrary internationally condemned laws, whether issued in the previous period or issued by the Sheikh Hamad councils, who singled out for imposing his illegal constitution on the people of Bahrain.
Externally, the ruling family is still spending millions of dollars on public relations institutions in Britain and other countries, in addition to buying receivables for representative figures from developed countries seeking to polish the image of the ruling family.
A recent study issued by the World Health Organization on diabetes found that Bahrain has the largest percentage of diabetes patients in the Arab countries.
It emphasized that there is no strategy to protect Bahrainis from disease by allocating the necessary budgets.
It is worth noting that the Ministry of Health enjoys the least chances in the state budget, which reflects the policy of the ruling family, which does not care about what happens to the people, and is only interested in accumulating money through the theft of lands and coasts and the transfer of Bahrain to private property.