News
Detainees Bleeding After Being Assaulted By Bahraini Jaw's Prison Authorities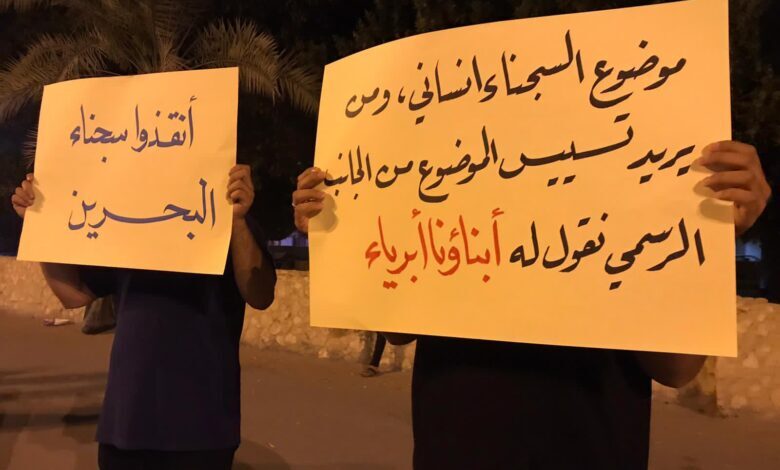 Security forces of Jaw Central Prison in south-eastern Bahrain brutally assaulted dozens of political prisoners in an attempt to break up their two-week sit-in.
Director of advocacy at the Bahrain Institute for Rights and Democracy, Syed Ahmed Al-Wadaei, stated that prisoners in Building 13 were brutally beaten by security forces, wounding dozens of them.
In a tweet, Al-Wadaei explained that the attack on prisoners took place immediately after the noon prayer.
He warned that Sayed Alawi Al-Wadaei had been brutally targeted, as the forces surrounded him in the form of a ring and physically assaulted him. Another officer carried him and threw him on the ground several times.
It is estimated that dozens of the forces stormed into Ward 2 of Building 13, and over 35 prisoners were attacked.
There are still traces of blood in the corridor of the ward, where the attack was documented by surveillance cameras.
The attack was led by Captain Ahmed Al-Emadi, with the participation of Captain Mohamed Abdel-Hamid Maarouf.
Two weeks ago, Captain Mohamed Abdel Hamid Maarouf prevented the detainees from contacting their relatives, after they went on an open hunger strike in protest of their miserable conditions in prison.
"There is a real fear that they will be subjected to further torture in other buildings or in the Royal College, as happened previously with other prisoners," Al-Wadaei warned.
Saturday's attack came less than a day after a Yemeni policeman at the Jaw Central Prison in Manama, affiliated to the Bahraini regime, made several threats against a political prisoner.
The Yemeni policeman threatened prisoners recovering from the Coronavirus, currently held in Building 20, telling them he would 'flay their skins'
He also threatened to reduce the time allowed for those recovering from the Coronavirus to go outside their cells from 30 minutes a day to only 15 minutes.
Threatening methods against political prisoners have been repeated in recent months after a series of protests citizens launched to reject their miserable conditions.
A few weeks ago, Captain Mohamed Abdel Hamid Maarouf prevented the detainees from contacting their relatives. This punitive measure came in response to the angry protest of the detainees.
Detainees, in buildings 12-13-14, went on a hunger strike, during which they returned the meals provided, due to their poor conditions.
Then, they complained about the delay and the small number of meals that did not cover their needs.
Earlier Saturday, former Bahraini Member of Parliament Jalal Fayrouz said that more than 3,500 opponents of the Bahraini regime are being tortured in prisons.
In a press statement, Fayrouz added that ten years have passed since the Bahraini popular uprising that broke out on February 14, 2011, and the situation in Bahrain is still terrible.
Various methods of torture and night raids in Bahraini villages and towns, especially those areas inhabited by the majority of Shiites, continue to take place.
Last month, a documentary book entitled "Exhalations" revealed 28 methods of brutal torture that detainees were subjected to in Jaw Prison.
The book contains 68 affidavits of political detainees from inside the Jaw Central Prison.
The book also reveals the involvement of Emirati officers in torturing detainees. It stated that these testimonies are one of the tools of resistance that the prisoners brought out as " Exhalations " that narrate outrage from the flood of the pain that they inflicted with patience.
Local and international human rights organizations confirm that Bahraini prisons are filled with more than 4,000 detainees for opinion and expression and calling for political reforms.