Uncategorized
Bahrain Refuse to Grant Permits to Build Mosques for Shiites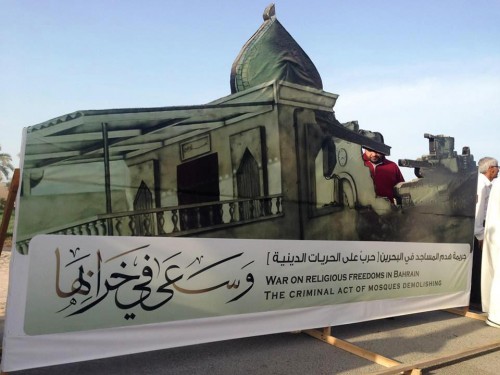 The authorities of Bahrain continue to refuse to grant any new permission to build mosques or institutions for Shiite citizens in several regions of the country, including the Hamad Town area.
In the aftermath of the 2011 popular revolution, the authorities demolished more than 38 Shiite mosques in the kingdom before reconstructing a few of them after international calls and pressure.
On March 14th, a virtual seminar was held under the title "Crime of Demolishing Mosques of God in Bahrain". This was on the occasion of the 10th anniversary of the occupation of Bahrain by Saudi forces and their demolition of dozens of mosques in the country.
A group of religious and political personalities participated in the symposium, who shed light on what they described as a "heinous crime" committed by the Saudi forces after their invasion of Bahrain in March 2011.
Meanwhile, the Bahraini security forces attack religious appearances during the Ashura season. They removed written and hung religious banners, investigated preachers, and banned a number of them from traveling and public speaking.
A few days ago, a court affiliated with the Bahraini regime sentenced 4 young men to three months in prison and fined them for reviving religious rituals. In light of the spread of the Coronavirus, the authorities in Bahrain are trying to practice repression against Shiite citizens in various ways.
Many are prevented from reviving religious rituals under the pretext of confronting the Coronavirus, while other public facilities are crowded with people. Sources told Bahraini Leaks that the four young men are: Hussein Riad, Ayman Younis, Syed Qassem Syed Hassan, and Hassan Al-Shaer.
Bahraini Shiite citizens, who constitute the majority of the population in Bahrain, suffer from systematic sectarian discrimination by the state. Furthermore, discrimination in employment within the official and military administrations is practiced against Shiites.
Human rights organizations affirm that the Bahraini regime severely represses religious freedoms, using false claims and health measures such as COVID-19 restrictions for religious targeting.