Uncategorized
Political Prisoner Ashour Exposed to Attempted Murder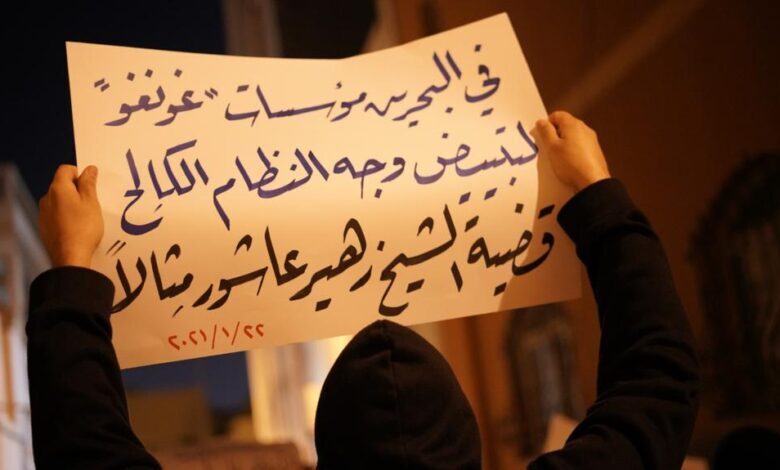 Prominent political Sheikh Zuhair Ashour, was violently assaulted by a criminal convict with intent to kill him.
This came according to statement No. 9 published by the family of Sheikh Ashour on Twitter. The family reported that their son told them during a phone call that he had been subjected to a treacherous and violent attack by a former soldier in the Bahrain Defense Force.
They further said the aggressor was a criminal prisoner of Arab origins, codenamed "A.T." He is accused of drug and rape acases and is known for his aggression and for creating violence.
Ashour was subjected to a number of bruises during the attack, on March 14. The family expressed grave concern over the life of the 35-year-old prisoner of conscience. He is serving sentences of up to 75 years after his arrest in 2013.
Recently, the family accused the security services of the Khilafid regime of subjecting their son to brutal torture inside the prison.
In a statement, the family stated that Ashour recounted during a previous phone call the horrors of torture he had been subjected to.
"Later, contact with him was cut off after hearing screams between him and the prison officials," the family said.
Ashour was transferred to solitary confinement and prevented from sleeping for seven days, during which prison officers brutally tortured him.
He recalled that he had been handcuffed and feet shackled with iron chains throughout that time, which made him unable to move. Some prison officers threatened Sheikh Ashour with physical liquidation.
He added that he was transferred to a building designated for prisoners with epidemic and contagious diseases, with the aim of killing him "slowly"
The statement demanded a halt to all that Sheikh Ashour is exposed to, an investigation into the violations that took place, and those responsible for them to be brought to justice.
The family urgently and immediately appealed to international human rights organizations, including Amnesty International and Human Rights Watch to intervene after the repercussions of Sheikh Zuhair's last call.