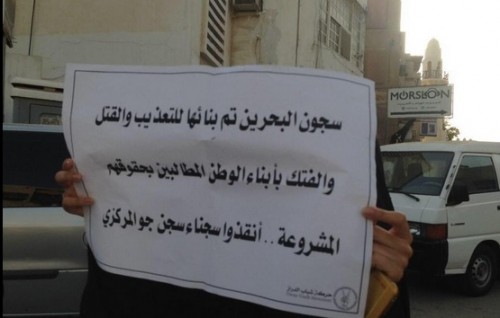 According to a leaked audio recording from Jaw Central Prison, a Bahraini Interior Ministry policeman threats and intimidates political convict Muhammad Abd al-Nabi Jumah.
In the recording, a policeman named Fadl threatens the prisoner to punish him after the International Committee of the Red Cross delegation leaves the prison.
The International Cross team has visited Bahrain for several days, during which it met with a number of prisoners serving their sentences in Jaw Central Prison.
The political prisoner stated that this policeman informed him of placing him on the "black list", as a punishment for his demand for treatment. Also, he threatened him because of letters he leaked outside prisons, in which he complains about the miserable conditions inside prisons.
Jumah appealed to the Prime Minister and Crown Prince of Bahrain, to find out what is happening in prisons. Also, the family of Jumah called on authorities to protect him against any threats or punishment.
Earlier, Junmah entered an open-ended hunger strike because of his deteriorating health conditions.
His blood sugar level fell to 3% and he felt tired and exhausted. He also suffers from pain and aches in the joints.
The Committee of the Detainees of Karana criticized the prison administration for neglecting to follow up on his illness and demanded that he be given the right to treatment.
The young man held in pretrial detention issued more than an urgent appeal from inside his prison facility at Dry Dock Prison, demanding that policemen stop harassing him.
In a previous leaked audio recording, he spoke of being beaten upon entering prison, and being subjected to constant harassment because of his talk about the people who assaulted him.
Human rights activist Ibtisam Al-Saegh indicated that a pretrial detainee must be able to do his right to investigation within 24 hours, to be able to seek the assistance of a lawyer, and to reside in places separate from prisoners. In addition, he has the right to bring food from outside or to buy from prison, and to bring in books or buy newspapers.
Prisoners of conscience in Bahrain's prisons suffer from many restrictions, and prisoners often resist by going into hunger strikes to demand the insurance of minimum standards for treatment.
Local and international human rights organizations confirm that Bahraini prisons have more than 4,000 detainees for opinion and expression and calling for political reforms. This is at a time when the Bahraini authorities continue to prevent the UN rapporteurs from visiting the country, to closely examine the human rights situation since 2005.
On Thursday, fifteen human rights organizations called on the US administration to address the "tragic decline" of human rights in Bahrain. In a joint letter, they requested US officials to visit Bahraini political prisoners.
Furthermore, they called for the release of all political prisoners in Bahrain, specially the leaders imprisoned in the 2011 uprising, including Hassan Mushaima, Abdul-Jalil Al-Singace, Abdul-Hadi Al-Khawaja, Sheikh Al-Miqdad and Abdel-Wahab Hussein.