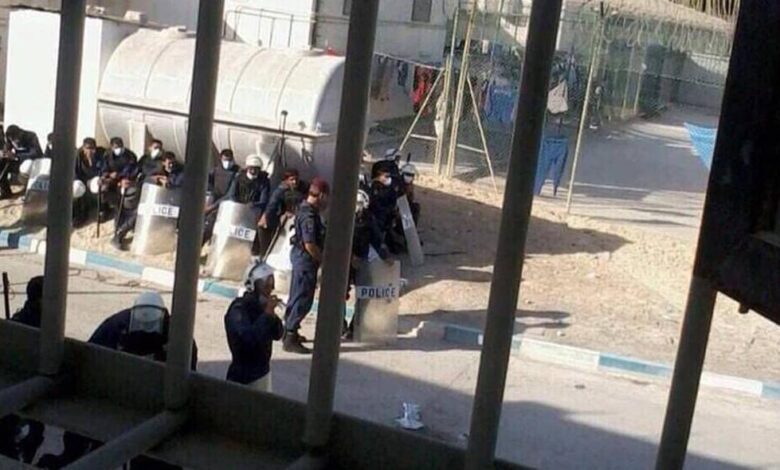 Dozens of political prisoners in Bahrain's Jaw Prison are still being held in solitary confinement and unable to communicate with their families.
This deprivation comes after the attack on detainees on Saturday, April 17th by Bahraini police, who entered Building 13 at Jaw and assaulted at least 35 prisoners.
Before they were assaulted, prisoners were protesting the prison's poor conditions
Bahrain Institute for Rights and Democracy revealed that the attack began after prisoners from cells 3 and 8 of Ward 2 of the building set up a sit-in in the corridors of the prison, refusing to return to their cells.
The attack was led by senior police officers, Captain Ahmed Al-Emadi and Captain Mohamed Abdel Hamid, and was captured by surveillance cameras.
In addition to being beaten, a number of prisoners were reportedly thrown on their faces repeatedly.
One prisoner, Syed Alwi Al Wadaei, lost consciousness after suffering a deep wound to the head and was said to have bled badly.
Another detainee, Saeed Abdulemam, was seen being taken away by the police.
Later, the prison authorities transferred 33 political prisoners to an unknown destination and 50 prisoners returning breakfast meals in protest of the disappearance of their colleagues.
The institute said that the current status and whereabouts of these individuals are currently unknown.
Their family members were unable to contact them and the prison authorities refused to disclose any information about their whereabouts.
Shortly after the attack, Bahrain's Ministry of Interior issued a statement declaring that "security and legal measures have been taken against the prisoners."
It claimed that prisoners were involved in acts of lawlessness and violence against the police.
On April 18, the National Institute for Human Rights, a quasi-governmental oversight body, denied all allegations that prisoners were being subjected to ill-treatment.
It claimed that "what is being said about prisoners being beaten and taken to an unknown location is not true."
More than a dozen family members of political prisoners attended the prison, some of whom were injured in the attack, in an attempt to locate their imprisoned relatives.
Despite a promise to be allowed to call within two days, families reported that their children were not allowed to make phone calls.
The organization listed violations such as confinement in cells 24 hours a day, and suspension of phone calls.
Bahraini prisoners are crammed into overcrowded buildings, which are designated only for political prisoners, which contributed to the aggravation of the situation after the death of prominent political prisoner Abbas Mal Allah a few days ago.
Hundreds of opposition politicians, activists, journalists and human rights defenders are in prison following an uprising in 2011 and subsequent years of government crackdowns.
Bahraini authorities said on March 28 that all inmates who requested COVID-19 vaccines had received them.
"Hopes that the Biden administration might rein in Bahrain's more authoritarian motives have been increasingly disappointed as the regime continues to intensify the repression," said Hussein Abdullah, Executive Director of Americans for Democracy and Human Rights in Bahrain.
Western-allied Bahrain has come under pressure from human rights organizations over prison conditions including overcrowding, poor sanitation and lack of medical care.