Bahrain binocular
British University Under Pressure to End Partnership with Bahraini Police Academy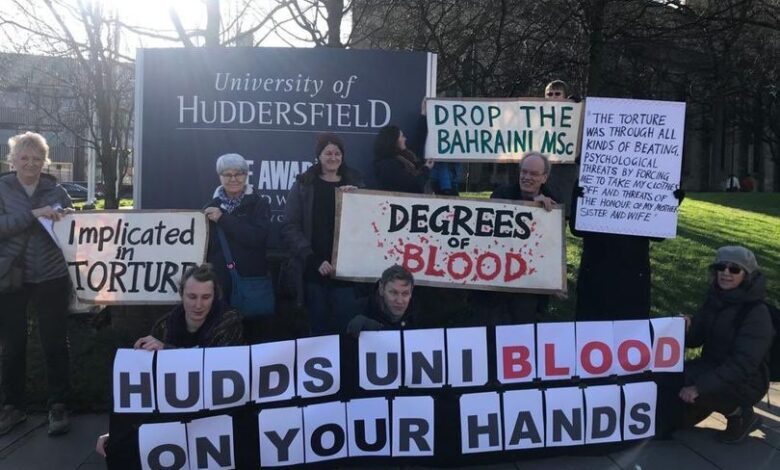 The Students' Union and employees of the University of Huddersfield in Britain called on the university administration to suspend a training program for a police academy in Bahrain involved in human rights violations.
The Union urged the university administration to suspend a profitable partnership program it ran in cooperation with the Royal Academy of Police in Bahrain. This was against the background of documenting cases of widespread torture of political prisoners inside the academy building.
Since 2018, Huddersfield has taught security sciences to officers of the Royal Academy accused of human rights violations.
The Bahrain Institute for Rights and Democracy confirms that prisoners were tortured in the academy building, according to the testimonies of former prisoners.
The institute described the facility as a "torture center" with methods that included electrocution, severe beatings and sexual assault.
University employees and the University Colleges Association (UCU) published a letter demanding that the university end its association with the academic program "immediately"."It is reprehensible for the University of Huddersfield to assist an organization implicated in torture," the letter said.
Bahraini human rights activist Syed Al-Wadaei says the pressure has begun to mount on the University of Huddersfield, this time from within.
Recently, 40 lawmakers in Britain urged the university to suspend the academic partnership program, run in cooperation with the Royal Police Academy in Bahrain.
The 40 representatives wrote a letter in this regard to the Vice President of the University of Huddersfield, Bob Cryan.
Representatives from Britain's two main parties said the university was at risk of "indirect involvement in human rights violations by administering a master's program in security sciences only for academic officers.
Huddersfield does not disclose how much money is being paid for the master's program, which Prince Andrew inaugurated in April 2018 when he was a chancellor of the university.
The university claims the program is in line with UK government policy and will lead to improvements in Bahrain.