Bahrain binocular
As experts escape Bahrain, medical errors claim the lives of Bahraini people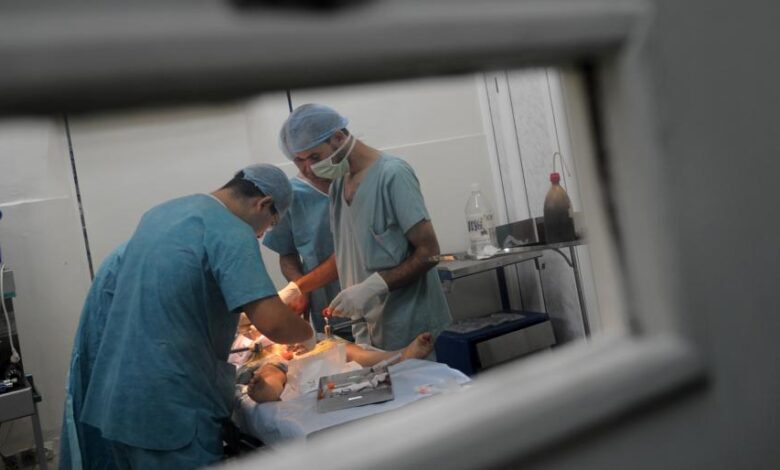 Series of medical errors continue to end the lives of Bahraini citizens. In light of medical professionals escape from the brutality of the regime, weak wages, and the regime's attempt to replace them with expatriate doctors or the principle's adoption of employment based on loyalty rather than competence.
Despite the regime's attempt to delude public opinion by its relentless pursuit of the file of medical errors in government hospitals, the problem remains without solutions or legislative oversight.
Three doctors made a new medical error that caused twins' death after their father exposed the scandal that three doctors tried to cover up in Bahrain.
Bahrain's Criminal Court issued its ruling on Tuesday, punishing three doctors with imprisonment for three years for the first and one year for the second and third doctors.
Surprise in the cemetery
The Public Prosecution Office had received a notification from the newborn twins' father that the Salmaniya Medical Hospital specialists had delivered the twins dead.
In the cemetery, the father found that they were still alive, so he returned them directly to the same hospital. The hospital then confirmed that one of the newborns was still alive and was transferred to the recovery room, but she passed away later.
The prosecution began the investigation as soon as it received the report and delegated the technical committee to report professional and ethical errors for practitioners of the medical profession formed by the National Health Regulatory Authority.
The report added that this matter necessitated their immediate transfer to the intensive care unit as long as they were alive and that not transferring them immediately to the care had missed the opportunity to save their lives.
Disclaimer of duties
A Bahraini minister revealed last week that the number of medical errors in the Kingdom has doubled, reaching 18 medical mistakes during 2020.
In response to a parliamentary question by MP Abdul Razzaq Hattab, Minister of Health, Faiqia Al-Saleh, explained that the total errors reported were suspected errors, divided as follows: "3 errors in 2018, 13 errors in 2019, and 18 errors in 2020."
She showed that the number of medical errors reported during the past 32 months amounted to 34 errors.
The Minister said that the number of medical errors reported by Salmaniya Medical Complex to the Health and Professional Services Regulatory Authority reached 34 errors from 2018 until last October.
Jurists call for the need to enact a law that regulates the relationship between the patient and the doctor. And the need to oblige medical facilities to insurance for medical errors.
They also called on the Bahraini Ministry of Justice to establish a court specialized in the medical field to ensure impartiality in judgments.
The Bahraini House of Representatives must take measures to reduce medical errors. A Bahraini human rights defender downplayed the viability of this council's existence in the light of its failure to perform its role entrusted with monitoring the country's executive authorities' performance.