Bahrain binocular
MBS to support Bahrain in condition of improving relations with Qatar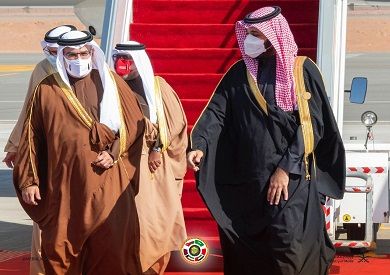 Gulf sources revealed to Bahraini Leaks details that emerged from the Crown Prince of Bahrain's meeting with his Saudi counterpart last week.
The main theme of the visit was to obtain financial solid and economic support from Riyadh.
The sources stated that Saudi Crown Prince Mohammed bin Salman indirectly rejected an official request attached to the King of Bahrain's signature, Hamad bin Isa.
The request urges Riyadh to offer a quick financial support package for the little neighbour.
Bin Salman told his visiting guest, Crown Prince of Bahrain Salman bin Hamad, that his country is ready to provide Bahrain with 250 million dollars in instalments this year.
But he stipulated that the first financial instalment be made, including Manama improving its relations with Qatar and stopping the media escalation against it.
The sources say that the Bahraini crown prince tried to defend his country's behaviour towards Qatar, claiming that it was the latter that ignored the commitment to what was stated in terms of the Al-Ula summit agreement.
The same sources spoke Bahraini Lakes while the Crown Prince of Bahrain was in Saudi Arabia.
The sources reported that the meeting discussed many economic and political issues and files related to Bahrain.
Among those files is a letter signed personally by the King of Bahrain, which his son delivered to the Saudi Crown Prince, requesting "generous" financial support from Saudi Arabia to Bahrain.
The Bahraini Minister of Finance accompanied the Crown Prince on the visit.
The Bahraini minister informed the Saudi crown prince that Bahrain, a small oil producer, was unable to impose more taxes on Bahrainis, because of the suffocating financial crises that haunt them.
In this context, the Bahraini Crown Prince warned that security assessments indicate that increased pressure on citizens may trigger new protests in Bahrain, which he does not want in light of his recent assumption of the premiership.
Toby Ailes, the chief analyst for Bahrain at Fitch Ratings, had previously predicted that Bahrain would likely need more financial assistance.
And that from its Gulf neighbours, despite the reform measures.
According to a previously reported Reuters report, the debt is classified as high risk by the three major credit rating agencies.
Bahrain obtained $10 billion in financial aid from Saudi Arabia, the UAE and Kuwait in 2018, to avert a credit crisis in a deal linked to financial sector reform.
Experts and analysts say that Bahrain needs a larger amount than the current year's allocation to meet more significant financing needs.