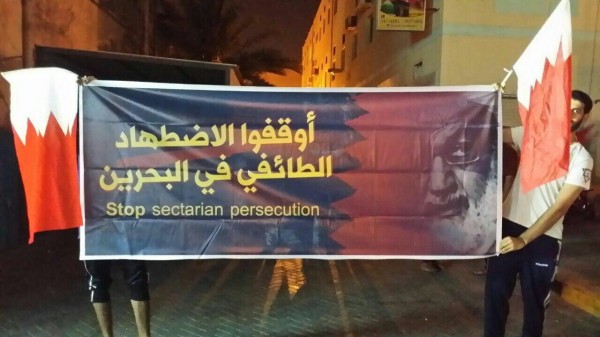 Bahrain's uprising of March 2011 — unlike rebellions then gripping other Arab countries — was largely nonviolent. It was led by a moderate Shi'a group, al Wafeq National Islamic Society, which had participated in Bahraini politics and cooperated with the government for years. Nevertheless, Bahraini officials advanced a media narrative of the uprising as a violent Shi'a resistance movement inspired by Iranian meddling, which prompted participating Sunni Bahrainis to abandon the uprising. It also served as a rationale for Saudi troops to intervene and crush the uprising, further enraging protesters.
Today, what once was dismissed as government propaganda has turned true, due in part to continued discriminatory policies toward Bahrain's Shi'a majority population and a lack of political reform inside the kingdom. "We said from the beginning we want free elections, respect for human rights, and a democratic government. This is what most Bahrainis want," one moderate opposition leader based in the United Kingdom said in an interview with this author. "We are against violence, but the regime has imprisoned thousands of people, executed others, and taken away our citizenship."
Nearly 70 percent of Bahrainis are Shi'a, yet the government has been ruled by the Sunni Al Khalifa monarchy since the 18th century. The government has instituted discriminatory policies toward the Shi'a for decades. According to the United States International Commission on Religious Freedom's 2020 Bahrain report: "The government generally allows freedom of worship for religious minorities, but continues its ongoing and systematic discrimination against some Shi'a Muslims. While they are generally free to worship, Shi'a Bahrainis have long faced difficulties in such areas as employment, political representation, freedom of expression, promotion within the military, and mosque construction."
A handful of moderate and violent Shi'a opposition groups have flourished, inside and outside the country, and their decade-old grievances have become a regional resistance movement.
The Feb. 14th Youth Coalition, named for the day the 2011 uprising began, is split between some committed to peaceful change and others advocating violence. Its obscure, decentralized leadership has emphasized strikes, protests and other efforts inside Bahrain, prompting violent confrontations with security forces. Some Bahrainis consider the Feb. 14th Coalition, which is banned inside the country, the heart of the uprising because, despite its loose organization, it has maintained deep roots in Shi'a villages and neighborhoods in Bahrain. It is known for spreading its messaging on social media platforms, primarily Facebook.
As a result of a 2016 ban on al Wafeq, once a formidable movement, the field opened to other, more radical organizations as well, some of which relocated to Iraq and Lebanon. Several factors contributed to their development, including Iranian indirect or direct funding and regional Shi'a popular support.
Some emerging groups became more militant, blaming Wafeq for the rebellion's failure. Some are now funded by Iran, according to U.S. intelligence reports and opposition leaders; some of their leaders are based in Iran and Iraq, supported by Iranian-backed militias, and advocate the Bahraini government's overthrow. Some Bahraini Shi'a who went to Iraq joined the Hashd al Shaabi, or Popular Mobilization Units, to fight ISIS in 2014-2015, according to Iraqi sources. Like thousands of Iraqi Shi'a, an unknown number of Bahraini Shi'a responded to a 2014 fatwa, or religious decree, from Ayatollah Ali Sistani, Iraq's premier religious authority and a spiritual leader for Shi'a regionally, calling on his followers to take up arms against ISIS.
These more violent groups have discredited the banned peaceful oppositionists. "The government uses the violent groups to characterize the entire opposition, even Wafeq, as advocating violence," another opposition leader said in an interview with this author. "The government also uses violence as an excuse not to implement any reforms. I have seen them do this in meetings with the British and other European governments."
The proliferation of violent groups not only poses a challenge to Bahrain's government but to other Gulf Cooperation Council (GCC) states in their attempts to curtail Iranian influence in Arab societies. The opposition to Bahrain's government also has strained relations between Bahrain and Qatar, even as conflicts among GCC states subside. Bahrain accused al Wafeq's secretary-general, Ali Salman, of spying for Qatar, which is close to Iran, and sentenced him to life in prison. In 2017, Saudi Arabia, Bahrain, the United Arab Emirates (UAE) and Egypt accused Qatar of aiding Bahraini individuals and groups which they accused of terrorism.
Perhaps the most violent of today's opposition groups is the Ashtar Brigades, which the United States classified as a terrorist organization in August 2018, a year after Saudi Arabia, the UAE, Bahrain and Egypt did so. The State Department's designation of Qassim al-Muamen, a leader in the Ashtar Brigades, as a terrorist was part of the Trump administration's policy of exposing Iran's attempts to destabilize Arab governments.
According to its website, the Ashtar Brigades was formed "as a reaction to the injustice that the people of Bahrain have lived through for decades at the hands of a Bedouin gang (the Khalifa family) that entered Bahrain by force of arms and killed hundreds of Bahraini people, violated rights, and continued to humiliate the holy sites." It says that Iranian Supreme Leader Ali Khamenei is the leader of the Islamic faith, and that the struggle in Bahrain applies more broadly to regional Shi'a communities ruled by Sunni governments.
Another, lesser-known group believed to advocate the overthrow of Bahrain's government is Saraya al Mukhtar, founded in 2013 and often referred to as the Bahraini Islamic Resistance. The U.S. Treasury and State departments sanctioned Saraya al Mukhtar, believed to be funded by Iran, just before President Trump left office.
Thus, a decade on, the lack of political and economic reforms in Bahrain is at least partially responsible for the proliferation and radicalization of opposition groups.
Widespread frustration within Bahraini society has inspired these groups' recruitments, particularly among Bahraini youth — and the misleading 2011 narrative of Iranian meddling has become a self-fulfilling prophecy. Could it have been prevented? Perhaps. But now, Iran has a role to play in Bahrain's future, and it is likely to use that to advance its regional agenda, which includes intervention in Arab politics and economies.