corruption
Chronological documentation of Bahrain's suppression of protests and force of power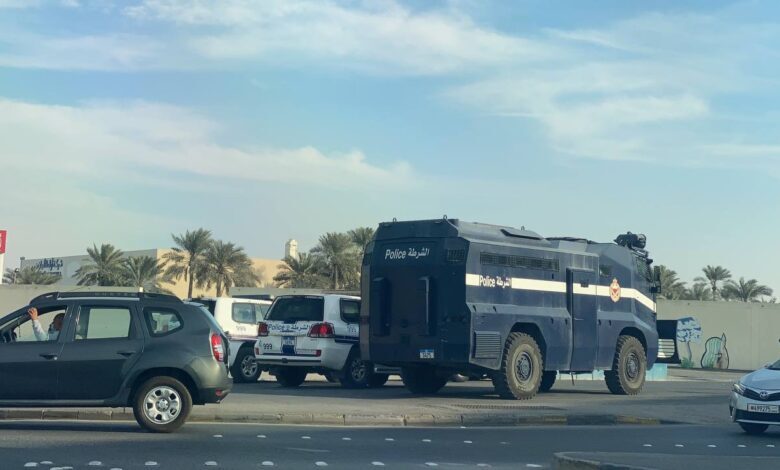 Bahraini Leaks publishes a sequential report on the Bahraini authorities' arrests and imposition of its power grip over popular protests, calling for freedom and democracy, which broke out in Bahrain ten years ago. Ever since, the Bahraini regime's approach towards any peaceful opposition has been arrests and escalating arbitrariness against its people.
However, the Bahraini regime suppressed protests by force and crushed any peaceful opposition, and it continues to pursue escalation of arbitrariness against the people.
February 14, 2011: Similar to the popular protests in Egypt and Tunisia, anti-regime protesters in Bahrain took to the streets on what they dubbed as the Day of Rage. One protester was shot dead and dozens were wounded. The next day, the police clashed with mourners at the funeral of the first victim, and another citizen was killed as well.
Three days later, police stormed the Pearl Square, the heart of the protests, to disperse activists who set up tents in the square. Seven protesters were killed by the Bahraini authorities.
During February of 2011: Crown Prince Salman bin Hamad Al Khalifa, commented that the country's interest was focused on establishing a new national dialogue for Bahrain.
March 3, 2011:  Clashes erupt between Sunnis who represent the minority and Shiites who form the majority in the first direct confrontation between the two sects since the February protests.
Ten days later, approximately 1,000 Saudi soldiers were deployed in Bahrain at the request of the royal family to protect government facilities after Shiite protesters overran police lines and disrupted movement on roads.
Bahrain declares martial law and its forces expel hundreds protesters out of tents they considered  a symbol of their struggle. Also, the army imposed curfews in most parts of Manama and banned all public gatherings.
April: Crown Prince says he is committed to reform but warns that there will be no compromise with those trying to divide Bahrain.
May 31:  King Hamad bin Isa Al Khalifa offers talks with no preconditions reform in which all parties participate. Bahrain lifts the state of emergency, the next day.
June 11:  Up to 10,000 citizens attend a major gathering for reforms since Bahraini authorities crushed the popular protests.
July 2: Talks begin between opposition and pro-government groups take place. Dialogue was organized with the participation of 300 people, including 35 from the opposition.
Two weeks later: Al-Wefaq, the main Shiite opposition party, announcing its withdrawal because its views were not taken seriously by the government.
August 15, 2011 – Bahrain criticizes Al-Wefaq's decision to boycott parliamentary by-elections.
September 24, 2011 – Fewer than one fifth of voters cast their ballots in by-elections; majority Shi'ites largely boycott the elections, protesting the government's security crackdown as well as the withdrawal of the Al-Wefaq movement from its 18 seats.
January 2012: The king announces constitutional amendments that give parliament more oversight powers.
February 2012: Protesters march in Manama in an attempt to reach Pearl Square, whose name has been changed to Al-Farouq Intersection. Police intervened and protesters were met with tear gas and rubber bullets.
Over the following years, the authorities accused scores of citizens of extremism and conducted mass trials, which human rights activists say mostly involved peaceful opposition members.
The government denies the deliberate targeting of Shiite opposition, claiming it is acting out of concern for Bahrain's national security.
June 2016:  Bahrain orders the dissolution of the Al-Wefaq movement, accusing it of fueling sectarian unrest and of having links with foreign powers, namely Iran.
July 2016: Bahrain strips  Ayatollah Isa Qassem, the spiritual leader of the country's Shiite majority, of his nationality.
January 2017: Bahrain executes three Shiite men convicted of killing three policemen in a bomb explosion.
July 2017: A Bahraini court sentences human rights activist Nabeel Rajab to two years in prison for making "false" statements about the Bahraini authorities.
In the following year, Rajab gets sentenced to five years in prison for his criticism of Saudi Arabia's role in the War in Yemen and the Bahraini authorities of torture.
Rajab was released in 2020 after an amendment of the sentence with a non-custodial ruling.
2018:  Bahrain enacts legislation allowing courts to convert prison sentences into non-custodial penalties, including community service and online monitoring.
November 201:  Bahrainis cast their votes in parliamentary elections with opposition groups banned from participations.
April 2019: The King of Bahrain restores citizenship to hundreds of people who have been stripped of their nationality by the authorities, excluding main opposition figures and activists.
July 2019: Protests erupt after two Shiite activists convicted of terrorism-related charges were executed in a mass trial. Police fired tear gas to disperse the demonstrators.
September 2020: Bahrain follows the footsteps of the UAE and establishes overt normalization relations with Israel, in an agreement reached with US mediation. Bahraini opposition groups reject the normalization move. The Bahraini regime strengthens its security grip and suppresses popular protests marking the tenth anniversary of the popular uprising.