News
Popular protests await Hamad bin Isa Al Khalifa in London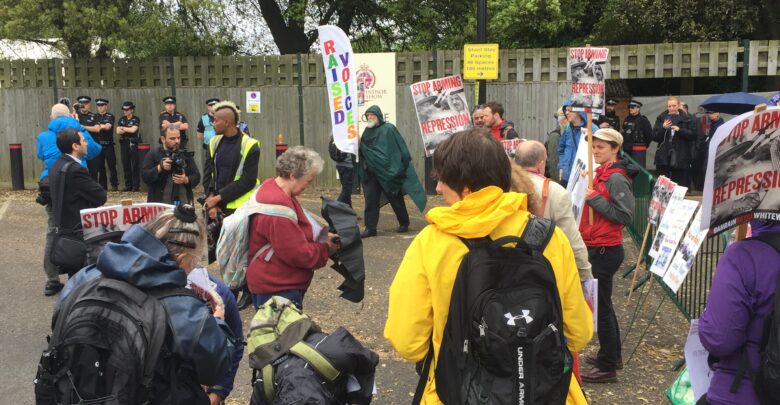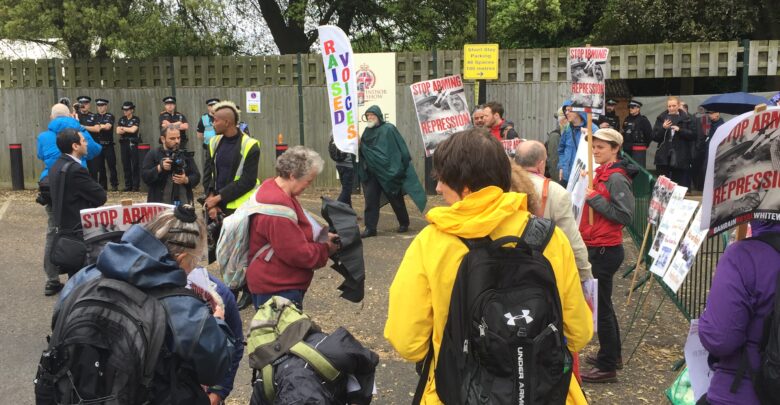 Bahraini and British activists are preparing to organize a series of large-scale protests against Bahrain's King Hamad bin Isa bin Salman Al Khalifa during his visit to London this week to participate in the Windsor horse races.
Activists plan to organize protests this year in participation with British organizations against the bloody Al Khalifa regime and its systematic human rights violations.
Identical human rights sources said that activists would have a strong presence this year in Windsor, where King Hamad will attend to watch the horse races that will start in a few days.
Activists raised a banner calling for the implementation of "distancing" measures from the executioners of Bahrain, who suppressed the people and confiscated their freedoms and wealth.
They also launched slogans that the UK's strategic interests depend on its relations with the people of Bahrain and not with the Khalifa regime.
Meanwhile, a member of the British House of Commons for the opposition Labor Party, Andy Slaughter, expressed his dissatisfaction with the refusal of the ruling authorities in Bahrain to respond to the demands of the Bahraini academic who has been on hunger strike for more than ten months.
"It is unbelievable that imprisoned human rights defender Dr Abduljalil Al-Singace has now spent more than 300 days of hunger strike in Bahrain to urge the authorities to give his confiscated research papers to his family," Slaughter said in a tweet.
Slaughter asked a veiled question to the government of Prime Minister Boris Johnson, saying, "What has been done to resolve this appalling situation?"
Former British Labor Party leader Jeremy Corbyn also called for the freedom of Bahraini academic Dr Abduljalil Al-Singace.
Corbyn tweeted, "the British Foreign Office is funding training for the Ministry of Interior in Bahrain." At the same time, the latter continues "the arbitrary detention of the leading Bahraini academic, Dr Abdul Jalil Al-Singace."
This is not the first time Corbyn has expressed his solidarity with Al-Singace and the Bahraini prisoners of conscience, as he had previously visited the activist Ali Mushaima's tent at the end of last year outside the Bahrain embassy while he was on a hunger strike in solidarity with his father, Professor Hassan and Dr Al-Singace.
Corbin also signed, earlier, a petition calling for the release of Al-Singace and opposition figures and participated in a discussion session in the British Parliament, calling for the whitewashing of prisons in Bahrain.
It is noteworthy that Al-Singace has been on a hunger strike since July last year, after numerous correspondences from his imprisonment, demanding that his research be returned, which was arbitrarily and unjustifiably confiscated.
Al-Singace refrains from eating any food orally and is satisfied with drinking tea with milk with sugar, drinking water and vitamins. Weeks after his strike, he was transferred to a health centre outside Jau Prison, where his health needed follow-up due to low blood sugar and low white blood cells.
He also suffers from tremors, convulsions and headaches due to the continuation of his strike.
Al-Singace's strike summarizes the scenes of aggression towards culture by the Khalif authorities. It also reflects the steadfastness of political leaders and opponents in Bahrain after 11 years of brutal repression and the insistence of Bahrainis on their right to freedom, dignity and self-determination.