News
Bahraini Leaks: Bahrain releases two children after UK pressure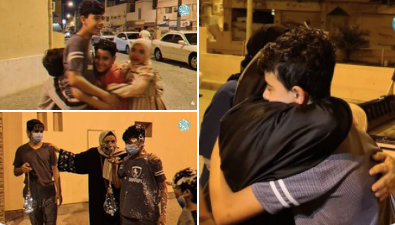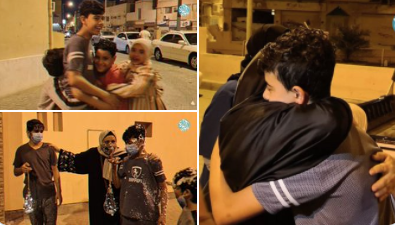 Bahraini authorities have released two children detained in their prisons 9 days ago after British pressure.
British officials have interacted with the issue of the two arrested children and requested the Bahraini authorities to release them immediately, sources confirmed to Bahraini Leaks.
Earlier this week, a British MP criticized the Bahraini authorities' arrest of two children, aged only 13, on charges related to his participation in the protest.
Labor Member of Parliament, Wayne David raised the issue of the Bahraini authorities' interrogation of the two children, Hussein Ayoub and Mohammed Rashid.
In a tweet, he said "Earlier this week two 13-year-olds, Hussein Ayob and Mohammed Rashid were detained in Bahrain. They have been interrogated on charges linked to protesting and could face up to 20 years in prison. I have written to the UK Govt to ask them to intervene and press for their release."
Childhood Rights Abused
After their release, a family ceremony was held in front of the two children's homes, where their families and neighbors were celebrating their release.
"children must not be arrested. It's a violations of children's rights and a violation of international instruments ratified by Bahraini authorities," said Former President of Bahrain Human Rights Forum, Youssef Rabie.
After closely seeing her son in prison, mother Hussein Ayoub was shocked upon seeing the terrible psychological and living conditions her kid had to go through in Bahraini prisons.
"I wish I didn't go to see him there. It's very awful" she sighed.
Political Persecution
The motives behind the arrest of the two children may be political to discourage demonstrators from participating in the commemoration of the 10th anniversary of the people uprising, said the Bahrain Institute for Rights and Democracy.
During their detention, the two children were subjected to hours of interrogation without the presence of their lawyer or parents. This  raised fears that they might be forced to make confessions.
A Bahraini judge had ordered the two children to be detained for 7 days after being interrogated by the Public Prosecution Office on February 7. The sentence was based on charges of arson linked to protests in their village last year.
Child Hussain was questioned without his lawyer or his parents, despite their lawyer's notifying staff of his presence.
Muhammed and Hussain were interrogated earlier in late December 2020, before they were transferred to Hamad Town Police Station for questioning.
Suspension of Trials
Bahraini police questioned Hussain for eight hours and refused repeated requests from his parents to allow them to accompany their child. Muhammad's family was not present during his interrogation.
Human rights and social institutions have expressed their grave concern over the continued arrest and trial of children in Bahrain.
"The arrest and trial of children violates international law and the International Child Convention, which Bahrain has signed," affirmed The Arab Union for Child Protection affirmed
In a press release, the Union called on the Bahraini authorities to release the children and stop their trial and detention, stressing necessity of adhering to international law for the protection of children; amending Bahraini legislation to comply with the International Convention on Childhood.