News
Bahraini Protests Continue for 20th Day in Solidarity with Political Prisoners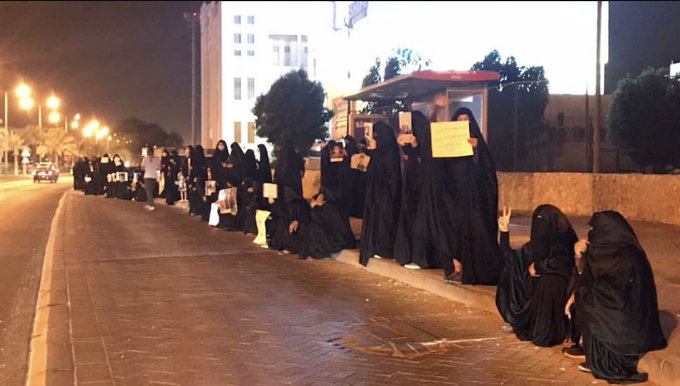 For twenty days now, Bahrainis rallied to call for the immediate and unconditional release of political detainees in Bahraini prisons.
Fears are raised among detainees' families about the horrific situation in the country's prisons in light of the outbreak of the Coronavirus.
Renewed demonstrations were held on Friday, April 17th, under the slogan "Friday of Prisoners' Wrath 3″.
Participants denounced the Bahraini authorities' ill-treatment of imprisoned activists and the miserable conditions of prisoners in detention centres across the kingdom.
Demonstrators carried Bahrain flags and pictures of imprisoned political opponents and chanted slogans against the regime in several villages.
These villages include: Karzakan, Karbabad, Hamala, Shahrakan, Dayr, Karana, Abu Saiba, Shakhura, Bu Quwah, Northern Sahla and Samahij.
Similar marches were held in the villages of Dar Kulaib and Al Maameer. Demonstrators raised pictures of a prominent opposition figure, Zakia Al-Barboury.
Zakia Al-Barboury was imprisoned for 5 years on February 6, 2019, and her nationality was withdrawn in a politically motivated case.
Earlier this month, Sheikh Isa Qassim, Bahrain's most prominent Shiite cleric, warned that arrested dissidents are facing death, and demanded their immediate release.
In a statement, the prominent cleric called on the ruling Al Khalifa regime to choose between the death of opposition prisoners or their release.
Sheikh Qassem added: "One of the worst things the Bahraini government does is to keep prisoners as a means of pressure for political bargaining, especially at a time COVID- 19 is spreading among prisoners."
Former Bahraini Member of Parliament Jalal Fayrouz said that more than 3,500 opponents
of the Bahraini regime are being tortured in prisons.
In a press statement, Fayrouz added that ten years have passed since the Bahraini popular uprising that broke out on February 14, 2011, and the situation in Bahrain is still terrible.
Participants demand that the Al Khalifa regime relinquish power and allow the establishment of a fair system that represents all Bahrainis.
However, Manama has made great efforts to clamp down on dissenting signs.
On 14 March 2011, forces were deployed from Saudi Arabia and the United Arab Emirates to assist Bahrain in its crackdown.
On March 5, 2017, Bahrain's parliament approved the trial of civilians before military courts, in a measure that human rights activists criticized as amounting to the imposition of unspoken martial law across the country.
The King of Bahrain, Hamad bin Isa, ratified the constitutional amendment on April 3, 2017.