News
A Bahraini activist refuses to pay an arbitrary fine imposed by the regime's courts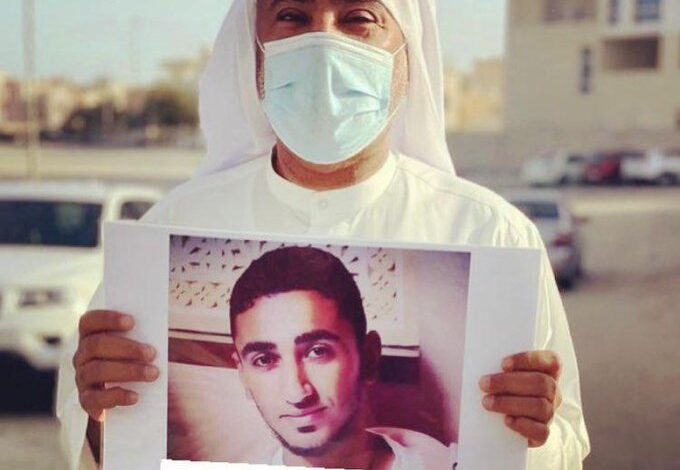 Bahraini political and educational activist Ali Muhanna announced his refusal to pay a fine imposed on him arbitrarily by a court of the Bahraini regime on two politically motivated cases.
Earlier, authorities had punished Muhanna with 2,000 Bahraini dinars ($5,300) for his demand for the release of his son Hussein.
In the second appeal session, held on Wednesday, a Bahraini court confirmed a fine of 1,000 Bahraini dinars for the case related to his participation with others in a sit-in in the Karbabad area.
However, during his participation in the Sanabis stand, he took all the necessary precautions to guard against the Coronavirus, and in a peaceful manner, as he emphasized.
This father had organized a sit-down in front of the Ombudsman's headquarters, demanding that Hussein's fate be disclosed, as the authorities continued to prevent him from communicating by phone with his family.
In response to this, Muhanna posted a brief video on Twitter on Wednesday evening, in which he said: "I announce it… I will not pay and let them imprison me."
The regime authorities released activist Muhanna at the beginning of this month after an arbitrary arrest on Sunday, June 12, which continued for 19 days on charges of participating in a march that took place after the burial ceremony of the deceased in Jaw Hussein Barakat prison due to infection with the Coronavirus.
Two days after his release, Muhanna raised the tone of defiance against the brutal policies practised by the repressive Bahraini regime against him to push him to stop defending his son. The latter has been unjustly imprisoned since 2017.
The father of political prisoner Hussein Muhanna wrote on Twitter: "My money, my freedom and my life are for the sake of my son's freedom and life, so the fines and my imprisonment, and whatever happens, will not stop me from demanding the release of my son during the day and at night."
During his imprisonment, concerns were raised about his situation in Dry Dock Prison after the Bahraini authorities put him in a cell with criminal detainees in drug cases.
He was lying in a very dirty place, so it was difficult for him to shower. Besides, the food was also of poor quality, and even the water was sometimes deprived of it.
Human rights activist Sayed Ahmed Al-Wadaei confirmed that the crime committed by this man was his demand for the release of his son and the political prisoners.
The financial punishment methods used by the regime's authorities against citizens who demand the release of their loved ones from prisons have been repeated.
The authorities recently punished three brothers with 3,000 Bahraini dinars for calling for the release of Muhammad al-Daqqaq.