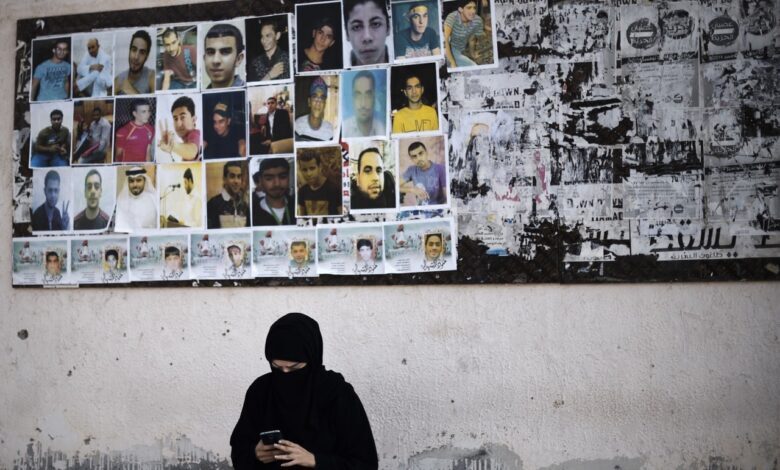 Concerns are raised for the safety of minor prisoners in the Bahraini regime's Dry Dock Prison, after a policeman known for his systematic abuse and torture of prisoners.
The Director of Advocacy at the Bahrain Center for Democracy and Human Rights, Sayed Ahmed Al-Wadaei, expressed his concern for the safety of minors in Building 17 of the Dry Dock Prison.
Al-Wadaei indicated in a tweet that police officer Ali Jabr, a Yemeni national, is known for his sectarian hatred and is involved in torturing underage political prisoners.
He indicated that one of his victims was Ali al-Wazir, who assaulted him in a bus during his transportation weeks ago.
Since the beginning of the popular movement in Bahrain in 2011, hundreds of children have been arrested after political charges were brought against them for their participation in peaceful marches and protests.
Their punishment was either imprisonment or revocation of their citizenship, not to mention torture, ill-treatment, and denial of medical treatment.
Bahraini children are used as blackmail and retaliation by the authorities, who throw them in adult prisons and extract confessions from them under torture and cruel treatment, according to a report by Salam for Democracy and Human Rights.
The report considered this a flagrant violation of children's rights, as human rights organizations documented cases of arbitrary arrest, detention, and physical and psychological abuse against children, even those under the age of eighteen.
An investigative investigation revealed last February that Bahraini security forces tortured children and threatened them with rape and electric shocks.
This is after they were arrested in cases related to protests that erupted in the middle of last month, which coincided with the tenth anniversary of the 2011 pro-democracy uprising.
Bill Van Esveld, associate director of children's rights at Human Rights Watch, said:
"The violations committed by the criminal justice system in Bahrain are the latest episode in a long record of child abuse."
Esveld added that the purpose of these violations was to "send a repressive message."
Two human rights groups revealed in a joint investigative investigation that about 13 children between the ages of 11 and 17 were arrested from early to mid-February when the authorities tried to suppress the protesters and prevent them from gathering to commemorate the tenth anniversary of the uprising.
An investigation by Human Rights Watch and the London-based Bahrain Institute for Rights and Democracy quoted the children and their families as saying, "Five children were arrested on February 14 and 15. Two policemen at that station beat, insulted and threatened them with electric shocks from a car battery."
The father of one of the children said that a policeman hit his 13-year-old son on the head and genitals, threatened to rape him, and gave him electric shocks.
The investigative report stated that in some cases, the police arrested children for allegedly burning bicycle tires or seats or blocking roads on the day of their arrest.
The children and their families reported that police officers accused the children of planting fake bombs, vandalism and throwing Molotov cocktails in November 2020.
On the other hand, while the right to education is a fundamental right in the Child Convention, which emphasizes preventing juveniles from working, the children of prisoners of conscience and conscience in Bahrain find themselves forced to work hard to support themselves and their families, which prevents them from continuing their education and robs them of their childhood innocence and dreams.
They continue to work even after their relatives are released from prison, as they cannot find work and support their families, as long as the matter is contingent on obtaining a "good conduct" certificate. This right was denied to those who participated in the popular movement and were imprisoned on political charges.