News
Released prisoners suffer mysterious and infectious diseases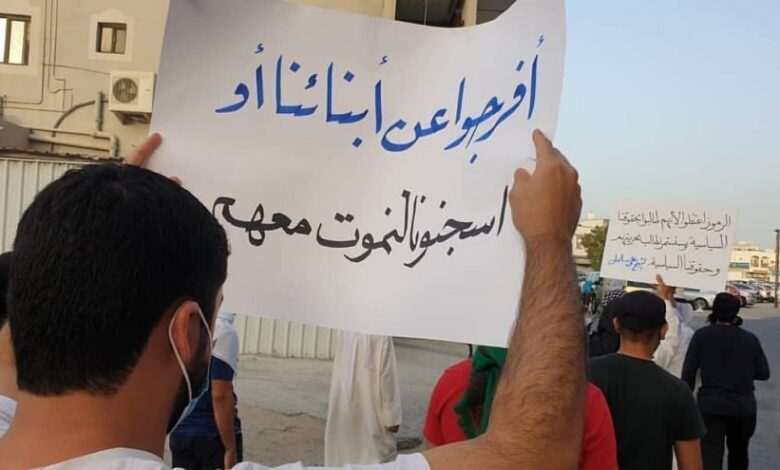 Mysterious infectious diseases and acute strokes haunt many political prisoners after subjecting to severe torture before their release from the Bahraini prisons.
The Bahraini authorities released political prisoners during the outbreak of the Coronavirus in prisons. However, the injuries they are exposed to, which amount to laceration of internal organs, shed light on their horrific stories.
The academic and head of the dissolved Teachers Association, the former prisoner and torture victim Mahdi Abu Deeb, had a stroke at dawn on Wednesday. He underwent a catheterization operation on the same day at the military hospital. His condition is currently stable.
For weeks, security forces tortured some released prisoners by beating, hanging, and electrocuting them and forcing them to stand for long periods.
In addition to preventing them from communicating with their family and lawyers, they remain under enforced disappearance for weeks, most of which were spent in solitary confinement.
They are still suffering from pain and side complications due to torture and complaining of other diseases that require continuous and permanent medical care.
Since their arrest, some prisoners have experienced setbacks in their health, which requested that they be transferred to the hospital several times.
The government charged them with inciting violence and hatred against the regime after their involvement in the 2011 protests.
Bahraini scholars condemned the authorities' disregard for the lives of citizens, especially prisoners of conscience, including those in prison in difficult health conditions.
In a press release, Bahraini scholars held the authorities responsible for the consequences of ill-treatment and denial of treatment in prisons.
This month, two human rights organizations called on the US administration and the British government to intervene with the Manama government to stop holding political opponents hostage.
These claims came in the wake of the death of political prisoner Hussain Barakat at Salmaniya Hospital after being infected with the Coronavirus in the notorious Jaw prison in Bahrain.
The Executive Director of Americans for Democracy & Human Rights in Bahrain Hussain Abdullah said: "The Biden administration and the British government, after this tragic death, must tell their Bahraini allies that holding political opponents hostage is no longer acceptable."
"All those convicted for their peaceful opposition to the government must be immediately and unconditionally released," he added.
Politicians in Washington and London are stepping up their rhetoric toward the Gulf ally.
They called on the two countries to stop selling arms to Manama and transfer the US Fifth Fleet headquarters to another country due to the recorded violations of human rights.
Repression in Bahrain is closely linked to foreign policy. Bahrain has always relied on foreign powers for protection, be it Britain, Saudi Arabia or the United States.