News
Dangerous Developments Regarding Prison Conditions…Prison Official Dies of COVID- 19 at Jaw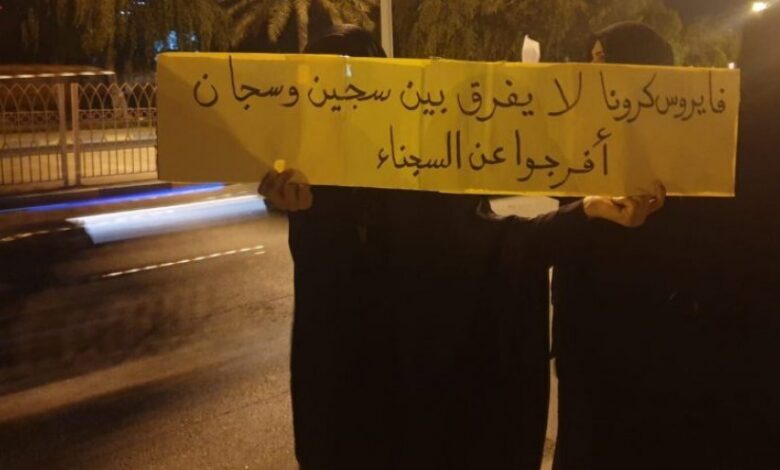 Bahraini human rights sources revealed the death of a policeman, as a result of being infected with the Coronavirus. The official worked at Jau Central Prison in Bahrain, which has over 4,000 political prisoners.
According to Bahraini human rights defender Syed Ahmed Al-Wadaei, the policeman was called Yasser and was of Syrian origin.
The death occurred a week ago while the Ministry of Interior kept the news secret and did not offer public condolences to his family, Al-Wadaei said in a tweet.
His death due to infection with COVID- 19 reflects the seriousness of the conditions of political prisoners and the danger threatening their lives in Bahrain's prisons, especially at Jaw Prison.
On March 23, Bahrain's prisons witnessed the first infection of a prisoner of conscience with the Corona virus, amid severe overcrowding in prisons.
The Coronavirus continues to overwhelm Bahrain's prisons, recording new infections among prisoners in light of deliberate medical negligence policy pursued by the Bahraini authorities.
Contrary to what the authorities stated, the number of prisoners infected with the virus has risen to 97, to date. Bahraini authorities have falsely announced only three cases in Jaw Central Prison.
Jaw Prison was built with a capacity of 1,201 prisoners, but the Bahraini authorities are crowding around 2,700 inmates inside the prison.
Recently, mass protests erupted in the streets, during which the families of political detainees demanded the release of their relatives in light of the COVID- 19 danger.
Mothers of political prisoners in Bahrain made moving appeals to reassure their children in light of the dangerous outbreak of COVID- 19, systematic repression and torture inside prisons.
Mothers of prisoners made humanitarian appeals to save their children from the threat of the Corona pandemic, especially after the denial of their visit or contact with their relatives.
They also demanded the disclosure of the fate of those forcibly disappeared since the bloodshed by security officers against prisoners on Saturday, April 17.
Meanwhile, Amnesty International criticized the Bahraini authorities for the poor health condition in prisons.
Amnesty International's researcher, Devin Kenny, said that since September 2020, the organization has learned that the Jaw Central Prison administration has not distributed any masks or hand sanitisers to prisoners.
Moreover, prisoners are not given any personal hygiene materials as a standard allotment and must purchase all such items – soap, detergent, rags, towels– from the prison commissary, known as the "canteen.
Not only have Bahraini authorities failed to disclose the full scale of the outbreak at Jaw prison, but the failure to grant many of those with COVID-19 their regular weekly calls to the family has deprived loved ones of direct communication with their sick relatives and caused great and unnecessary anxiety, confirmed Amnesty.