News
Bahraini activists criticize Washington's support for abuses against prisoners of conscience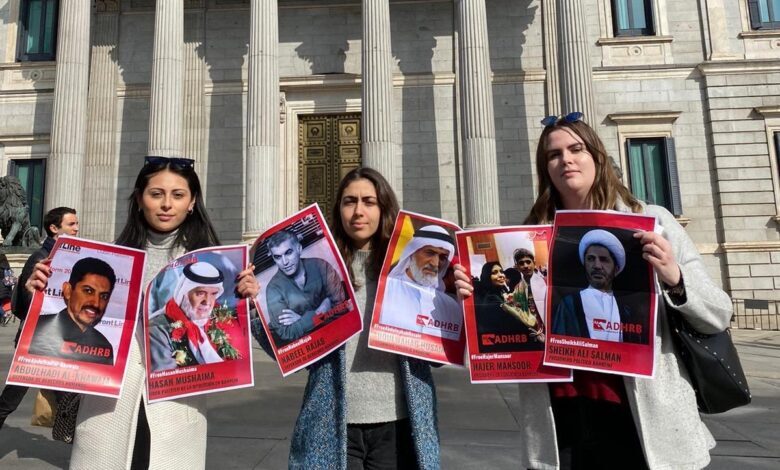 Human rights circles in Bahrain have widely criticized the US embassy's support for the abuse of prisoners of conscience rights. 
The US Embassy in Bahrain tweeted that "The United States welcomes #Bahrain's expanded application of its alternative sentencing law and this week's release of prisoners. The United States supports the kingdom's continuing efforts to strengthen its judicial processes."
Last Wednesday, the Bahraini authorities released 30 prisoners under new rules that allow for surveillance and home detention instead and other conditions.
Since the anti-government uprising in 2011, the Gulf kingdom has imprisoned thousands of protesters, journalists and activists, some after mass trials. Under the Alternative Punishment Law issued in 2017, prisoners who have spent at least half of their sentences in prison are allowed to complete them abroad through procedures including community service, rehabilitation courses and electronic monitoring.
Activists highlighted the fact that most Bahraini citizens who are calling for democracy and the release of political prisoners have come to a firm conviction that the US government is genuinely aligned with the tyrannical regimes in the Gulf and that it stands against the aspirations of the peoples of the region, including the people of Bahrain.
Activists have long been disappointed in the credibility of US positions, so the US Embassy's announcement of its support for the Alternative Penal Code, and what it said was an expansion of it, came as no surprise to anyone.
A number of citizens, men and women, responded to the US embassy's tweet, in which it "expressed" the United States welcome to the Kingdom of Bahrain's expansion of the application of the Alternative Penal Code. The embassy also affirmed in its tweet, the United States of America's support for the "continued efforts of the Kingdom of Bahrain to strengthen its judicial procedures."
Well-known legal advisor Ibrahim Sarhan said "Your welcome means that you support the arbitrary rulings against political detainees, and you recognize the reality of the corrupt and unjust judiciary. The restriction is a humanitarian and moral duty."
 Alia Radhi, wife of opposition leader Sheikh Ali Salman, commented on embassy's tweet, "The detainees of Bahrain are prisoners of conscience, and they have the right to be released without conditions or restrictions. Your praise of alternative sanctions means your satisfaction with this injustice against the people of Bahrain."
Well-known activist Jalila Al-Salman, I asked, "What is the essential difference in the case of serving a sentence in prison or leaving it without rights? We have attended a large number of trials and witnessed the reality. How do you feel that you are innocent and still have to pay the bill? Is this fair to live with? What about basic rights?"
The head of the Bahrain Forum for Human Rights, Baqir Darwish, addressed the embassy, ​​saying, "Full freedom is an inherent right for all prisoners of conscience, unconditionally, with reparation for the violations that happened to them. A years-long political crisis in which an authoritarian government relies on the support of its allies to continue violations."
The spokesperson for the Haq Movement, Abdul Ghani Khanjar, said that "it is difficult for the US Embassy in Bahrain to polish its image by supporting projects of authoritarian power (the alternative penal law) by supporting this illegitimate authority, as the United States has lost all its credibility and its human rights values."
Former MP, Jalal Fairouz, said, "Your embassy should not sponsor tyranny and dictatorship. Bahrainis are suffocating and all their rights are violated. Their fate is death and imprisonment simply because they demand democracy, freedom and justice. Thus, the dictatorship should not be helped."
Tweeter Ali Al-Zaki tweeted, "What is required is to encourage serious dialogue and to strive for a real democratic political transition in Bahrain. Your role should not be negative and contribute to the escalation of injustice. Violation of religious and political freedoms and depriving citizens of all their rights. Your continued support for sectarian cleansing in Bahrain must cease."