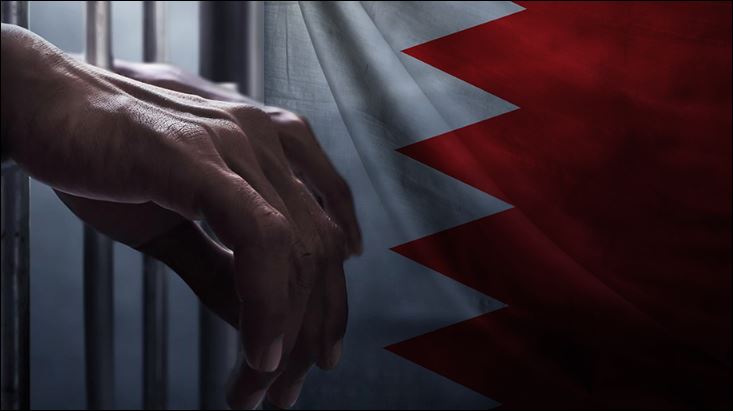 Amnesty International condemned the slow killing of dissidents and prisoners of conscience in the prisons of the Bahraini regime.
The organization highlighted that two opposition activists in Bahrain, Abdul Jalil Al-Singace and Hassan Mushaima, were referred to the hospital on July 18.
The organization stated that Al-Singace and Mushaima are prisoners of conscience and suffer from pre-existing health conditions and need special care.
Amnesty International called for the immediate and unconditional release of both Al-Singace and Mushaima.
Abdul-Jalil al-Singace began a hunger strike on July 8 to protest his abusive treatment in prison and the confiscation of his research paper last April, which he worked on for four years.
Hassan Mushaima was taken to the hospital for tests. It was found that his blood sugar and blood pressure levels are very high, and he may be currently suffering from other health problems.
The international organization urged the Bahraini authorities to allow Mushaima to have full access to his medical file and to stop the deliberate medical negligence to which he is exposed.
Recently, Amnesty International highlighted the suffering of the prominent prisoner of conscience in Bahrain, Hassan Mushaima, noting that he is one of the most famous victims of politically motivated imprisonment in the world at present.
The international human rights organization published a report by activist Mark Mannheim, which stated that the prisoner Mushaima spent more than 3,738 consecutive days behind bars, without counting the previous periods.
The report indicated that this former political leader played a significant role in the peaceful protests in Bahrain during the Arab Spring. Since his arrest, he has remained a living example of calling for change and protecting human rights.
Although Bahrain is not a country that receives much international attention, the deteriorating human rights situation in this kingdom has become increasingly followed.
The report said that driver Lewis Hamilton had recently referred to continuing human rights violations in Bahrain before his Formula 1 Bahrain Grand Prix participation.
There were also solid international protests that contributed to releasing many prisoners of conscience in the country, including Nabeel Rajab and Najah Youssef.
But this does not apply to Hassan Mushaima, the 73-year-old Bahraini prisoner of conscience, who was sentenced to prison for participating in the pro-democracy protests in 2011 and spent several years in jail.
Mushaima is considered one of the leaders of the opposition in Bahrain. He is the Secretary-General of the Al-Haq movement, one of the largest opposition parties. He is also a fierce defender of human rights.
Mushaima was arrested for the first time in 1995, after participating in peaceful protests, when he had just begun his political activism. Within less than a year, he was arrested again and spent five years in prison.
In 2002, Hassan Mushaima held the position of Secretary-General of the newly established Al-Wefaq Party. Since 2005 he became the Secretary-General of the Al-Haq Movement for Freedom and Democracy, which has become the most important political opposition faction in Bahrain.
According to the report, the consequences of the 2011 Arab Spring protests were numerous in Bahrain, where human rights and freedom of expression, assembly, demonstration, and the media were completely confiscated.
Because of his important role in these historical movements, Mushaima was subjected to individual targeting and was sentenced to life imprisonment.
Hassan Mushaima suffers from cancer and diabetes, high blood pressure, and gout, and he does not receive proper medical treatment.
Although the malignant tumour in his body is in a state of regression, he needs regular medical examinations once every six months. He needs more than 15 kinds of medicines for various health problems.
The writer mentioned that in 2018, Amnesty International and Americans for Democracy & Human Rights in Bahrain were among the organizations that signed a letter addressed to the Bahraini government calling for Mushaima's release and enabling him to obtain the necessary medical care.
On March 11, 2021, the European Parliament had adopted a draft resolution condemning the human rights situation in Bahrain, which included recommendations for all EU member states.
"While overcrowded prisons in Bahrain are witnessing deteriorating health conditions, the authorities decided to release 1,486 prisoners in March 2020 due to the health risks associated with the Corona epidemic."
However, this decision largely excluded opposition leaders, activists, journalists and human rights defenders.
As stated in this European resolution: "The Bahraini authorities deprive these prisoners of urgent medical care, and threaten their health and safety, in violation of the lowest international standards in the treatment of prisoners.
Therefore, many political prisoners went on strikes to protest against ill-treatment in prisons."
The writer cautioned that the current time is not only a critical time for Hassan Mushaima, but it is also an opportunity to continue the struggle for his freedom and human rights.
With the launch of the 47th session of the United Nations Human Rights Council on June 21, there are high hopes that the international community will be able to use this opportunity to raise human rights issues in Bahrain.
He also requested the release of Hassan Mushaima after spending 3,738 consecutive days in prison, he adds.