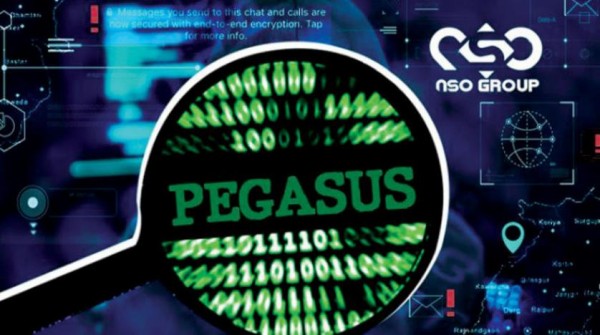 The Middle East Eye published an investigation into the secrets behind the Al-Khalifa regime's spying on Bahraini opponents using Israeli surveillance systems.
The website referred to the case of Saeed Al Shihabi, a veteran pro-democracy activist and journalist and a prominent figure in the Bahraini opposition movement in the United Kingdom.
The website stated that Al Shihabi, 67, never carried a phone and said, "I have taken precautions. I knew our government had targeted me because I had been a dissident my whole life."
The no-phone strategy fits with Al Shihabi's old ways in the real world.
Every Wednesday afternoon, he can be found protesting outside the Saudi embassy in London. He and others began demonstrating in March 2011 after the kingdom invaded Bahrain during pro-democracy protests.
On Saturdays, he was in Downing Street, calling the UK government to stop supporting Bahrain and training its security forces.
He adds, "I have gotten old, and these years have gone in vain, which is the result of the Saudis."
During the 1980s, he received at least three suspicious phone calls at his home in London from Bahrain that he believed were intended to arrest him.
Once, during a government crackdown, a fellow defector called to arrange military training, despite Al Shihabi's shock and insistence that this was not how the Bahraini opposition should operate.
It later turned out that the friend was calling from a Bahraini prison. "They wanted to catch up with me," Shihabi says of the call and the others that followed. "The surveillance has always been there."
In 2014, a leak revealed that Bahrain had hacked Al Shihabi's computer using FinSpy surveillance software and possibly gained access to his email.
Authorities can even control Al Shihabi's laptop camera and microphones to watch and listen to him.
But Al Shihabi blamed himself.
"Are you so naive, Saeed?" He remembers asking himself. "How can you let your enemies sneak up on you so easily? It is not that easy. It has been paid for. It is an expensive procedure. But they managed to do it."
Al Shihabi says the revelation of the hacking hit him hard because it came after his family survived an early morning fire in their home in 2009.
This came two days after an attack on two Bahraini dissidents in an alley near Euston Station in London.
According to evidence from Al Shihabi and other Bahrainis to the UK Foreign Affairs Committee in November 2012, they had been warned of an "imminent attack" before both incidents.
After attacking them in the street, the two opponents said that a caller told them that if they approached the Bahraini embassy, ​​"next time they will receive a more severe punishment."
It is clear to Al Shihabi that these attacks were intended to silence them. "So when this [hacking] happens, given these experiences, you say, 'What next?"
Back in the woods on the outskirts of London, Ghanem Masir seems more relaxed. He admits that once the filming is done, he gets tired. Over the past four years, he has detailed his life to dozens of journalists.
"I got old, and these years were wasted, which is the result of the Saudis," he says. "I can't get those years back, but I hope to get back on my feet one day."
The site revealed that Arab activists in Britain are preparing to file lawsuits against the United Arab Emirates, Saudi Arabia and Bahrain over targeting and hacking their phones and personal accounts.
He stated that these activists moved to Britain several decades ago to escape their "oppressive governments", believing they could speak freely. Still, they wondered if their adopted country was as safe as they initially thought or wanted to believe.
International reports have recently proven the use of the Pegasus spyware program, developed by the Israeli company NSO, to hack the smartphones of officials, activists, dissidents and journalists worldwide.
Marwa Fatfta, director of the Middle East and North Africa at the International Access Now, told the MEE: "Usually, countries are entities that are immune from lawsuits because of the State Immunity Law of 1978, which was passed before the emergence of electronic spyware."
But she made it clear that the lawyer of the Saudi opposition, Ghanem Al-Dosari, believes that what his client was subjected to is an exception to the law.
Al-Dosari's case will be the first court decision regarding a spyware program and a foreign country and may set a precedent for opponents who, like him, have been attacked. It may be an example for lawyers and oversight experts around the world.
Fatfta pointed out that the fear of Arab opponents of the spying program has multiplied due to the British government's silent stance on the attacks against them or the failure of the law enforcement forces to follow up on them.
The documents of the Israeli spyware program Pegasus revealed last year that journalists, politicians and activists on the European continent were attacked with the spyware.
Newspapers showed that 50 thousand phones are likely to be hacked or considered necessary for censorship in the future.
The NSO Group, the owner of the Pegasus spyware program based in Israel, has been the subject of controversy over the past year after media outlets revealed that governments targeted opponents of this program, which can operate cameras and microphones of mobile phones and steal their data without the knowledge of their owners.
Human Rights Watch revealed in a report that the software of the Pegasus spy program is surreptitiously downloaded on mobile phones.
The report confirmed that once the spyware is downloaded onto the device, it can turn into a powerful monitoring tool with full access to the camera, calls, photos, videos, microphone, email, text messages, and other features, allowing monitoring of the target person and contacts.
"This is a sophisticated attack technique that is effective at hacking devices and is also difficult for the target to detect or prevent," the organization added.
Pegasus is a spyware program that can be installed on devices running some iOS or any other system to spy on the target person and find out what he is doing on his mobile phone and see his files and all the photos or media he keeps in the phone.
This software was discovered in August 2016 after it failed to install on the iPhone of an Emirati human rights activist, Ahmed Mansoor (currently detained in Abu Dhabi prisons), which enabled Apple to pay attention to it and pay attention to its exploitation of security vulnerabilities with the aim of hacking and espionage.
The program does not work on its own but instead targets the user by prompting him to click on a malicious link, which enables the download of Pegasus, whose role is to break iOS on the device.
Thus being able to read text messages and calls, collect passwords, track phone location, and collect data from applications including Gmail, Viber, Facebook, WhatsApp, Telegram and Skype.