corruption
Jaw Prison Administration hires a private Asian security company to suppress prisoners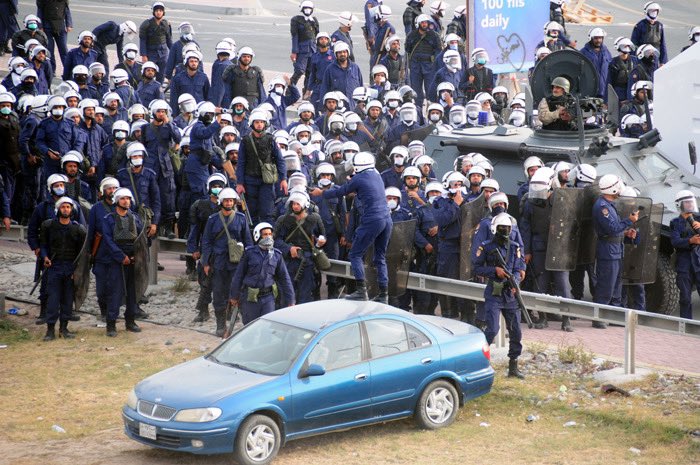 Bahraini sources revealed that the Jaw Prison authorities in Manama had used a private security company to suppress prisoners of conscience in this notorious prison.
According to Bahraini Lakes monitoring, prisoners leaked this information after noticing security personnel of East Asian nationality, who are likely to be from Nepal, working alongside the prison police.
In a related context, prisoners in Block 20 and Block 3, designated for prisoners recovering from COVID-19, continue to sit in the corridors to respond to demands that the prison administration promised them to fulfil.
The prisoners urged the prison administration to fulfil their demands, especially providing the necessary health care.
Prisoners of conscience suffer from blatant restrictions, in which prisoners conduct hunger strikes without responding to their demands to ensure minimum standards for the treatment of prisoners.
Local and international human rights organizations assert that more than 4,000 prisoners detained on the background of their opinion or political affiliation.
Following the outbreak of the 2011 protests, the Bahraini authorities used mercenaries, mostly from Asian countries, to crush the peaceful protesters.
Human rights organizations have monitored the commission of many crimes and violations by these elements against the Bahraini people.
The Bahraini opposition politician Saeed Al-Shihabi says that the Hamad bin Isa regime uses mercenaries to suppress the Bahraini people.
Recently, a documentary book titled Zests revealed 28 methods of brutal torture to which prisoners in Jaw Prison are subjected.
After protests in prison on March 10, 2015, the prisoners listed 63 names of those whom the book described as "executors", including officers and members of the Jordanian gendarmerie and "mercenaries".
The book also reveals the involvement of Emirati officers in torturing political prisoners.
It is noteworthy that the Saudi-Emirati forces invaded Bahrain on March 15, 2011, a month after the outbreak of the popular revolution demanding the overthrow of the regime.
As soon as more than a thousand officers and soldiers from the Saudi forces entered Bahrain, the UAE announced that it had sent 500 police forces to the Kingdom.
The ruling Al Khalifa family in Bahrain had asked the two countries for help to confront the protests that escalated in Manama.
This week, Bahraini activists ridiculed the Ministry of Interior's announcement that it had won first place in the International Military Pedometer Championship.
Activists published a group photo of the Bahraini Ministry of Interior's winning team. It shows that most team members are Asian foreigners who have been naturalized in the country.
Activists said that the winning team has nothing to do with Bahraini citizenship.
Instead, they are naturalized foreigners preferred by the regime's government over citizens, under the pretext that they do not have similar specialities in the Kingdom.