News
Al-Khelaifi regime extends its arms to extreme right-wing parties in Israel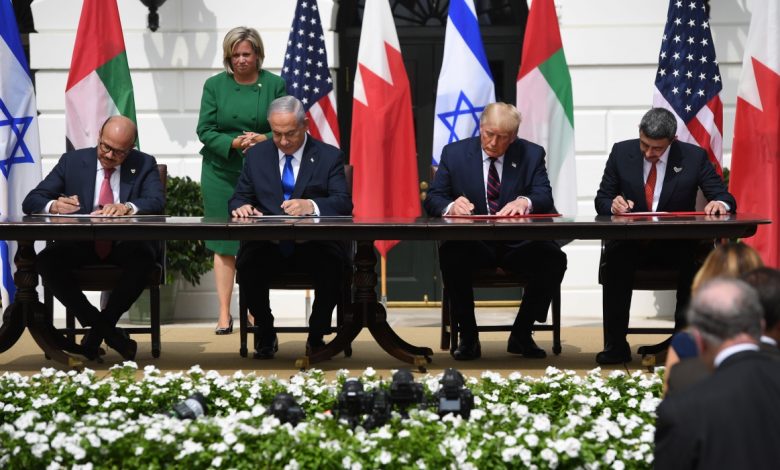 The Al-Khelaifi regime declared its desire to strengthen the alliance with Israel despite the victory of the far-right parties in the recent parliamentary elections.
The diplomatic advisor to the King of Bahrain stated that Manama would continue to build its relationship with Israel after the victory of former Prime Minister Benjamin Netanyahu and his right-wing allies in the Israeli general elections.
Reuters noted that Arab leaders were largely silent about Netanyahu's victory, whose record of hard-line opposition to Iran helped him establish relations with leaders in the Gulf.
Under Netanyahu's government in 2020, Israel normalized relations with the UAE and Bahrain, where concerns about Iran's influence in the region dominated the security strategy under US-brokered agreements called the Ibrahim Accords.
Diplomatic advisor Sheikh Khalid bin Ahmed Al Khalifa said Netanyahu's victory was "natural and always expected."
"We have an agreement with Israel, which is part of the Abraham agreements, and we will abide by our agreement, and we expect it to continue on the same path and to continue building our partnership together," he told reporters.
"We will want to set an example and succeed together and confront all threats," he said in response to a question about a regional, multilateral approach to security that includes Israel.
US and Israeli officials raised the idea of ​​an integrated air defence system in the Middle East during a visit by US President Joe Biden in July to Israel and Saudi Arabia. The kingdom blessed the Abraham Accords but did not officially recognize Israel yet.
"We would like to be sure that we will not have to reach a day when we face some deterioration of security in the region of any kind," said Sheikh Khaled, whose country hosts the US Fifth Fleet.
"We want the region to reach an understanding between all countries and agree against any aggression by any party to any other party," he added.
According to Reuters, the Gulf states share Israel's concern about Iran's nuclear and missile programs and its network of regional proxies. Gulf states depend on the United States for security but have questioned the United States' commitment to the region.
Officials from Israel and Bahrain said last month that the two sides were negotiating a free trade agreement that they hope to conclude before the end of the year.
And recently, the Hebrew newspaper Maariv revealed that Bahrain and Morocco are among the most prominent countries that buy Israeli weapons amid condemnation of Israeli arms deals offered to corrupt dictatorships.
The newspaper stated, "one of the well-known aspects of Israeli arms deals is offensive cyber directed at corrupt dictatorships, and it is only one aspect of the dirty deals that Israel concludes."
The newspaper pointed out that most of the clients in these Israeli deals besides the two Arab countries are African countries, including Ghana, Kenya, Uganda, Liberia, Nigeria and Zambia, and Kosovo, Bosnia and the Philippines.
It noted that Israel "has come a long way to date in its arms sales, with nearly ten billion dollars a year."
The newspaper considered that Israel "did not hesitate to conclude arms deals with many dictatorships that violate human rights, commit war crimes, and are led by tyrannical rulers, who are involved in the extermination of peoples," in reference to Bahrain.