corruption
News
A new scandal chasing Nasser bin Hamad Al Khalifa in Europe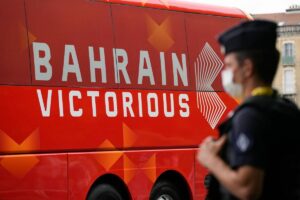 A new scandal pursued Nasser bin Hamad Al Khalifa, son of the King of Bahrain, after the European police Europol raided the headquarters of his cycling team in 7 European countries in search of banned substances.
Europol confirmed that the raid on the residence of the members of the Nasser bin Hamad Cycling Team in Copenhagen came in search of prohibited substances and that extensive investigations are being pursued.
The European Police stated that the ongoing investigation with the Bahrain Victorious team focuses on "the use of prohibited substances in cycling."
Eurojust revealed that "412 capsules with unspecified brown content and 67 capsules with unspecified white content" were found during the research period earlier this week in Slovenia.
Danish law enforcement raided the Bahrain Victorious Hotel in Copenhagen on the eve of the Tour de France. At the same time, police conducted home searches of passengers and staff in Belgium, Spain, Croatia, Italy, Poland and Slovenia earlier this week.
Europol confirmed in a statement that electronic devices were seized during the raids and published pictures showing the seizure of medicines.
Europol's statement came after an earlier confirmation from the Public Prosecutor's Office in Marseille that the homes of the "manager, three passengers and a doctor" from Bahrain Victorious had been searched.
The Bahrain Victorious headquarters has been under investigation by the Public Prosecutor's Office in Marseille since last July when their hotel was raided during the 2021 tour.
"Law enforcement and judicial authorities in France, Belgium, Spain, Croatia, Italy, Poland and Slovenia have implemented coordinated action against the use of prohibited substances in cycling," the statement read.
The Bahrain Victorious Company, owned by Nassour Al Mujeza, claimed that the raids were "intended to damage the team's reputation."
Nasser bin Hamad holds the position of National Security Adviser, Chairman of the Supreme Council for Youth and Sports and Secretary-General of the Supreme Defense Council, as well as several high-ranking positions in Bahrain.
He had recently purchased a horse for more than three million dollars, which sparked activists' condemnation on social media.
Activists on Twitter wondered what if these millions were spent on some of the poor and needy people of the country, or building housing units, or providing jobs for the unemployed?
They criticized the purchase of palaces and horses by the sons of King Hamad with the nation's money and the pursuit of personal entertainment at a time when the citizens suffered from starvation.