News
A meeting in Bahrain discusses spreading normalization among Arab and Muslim countries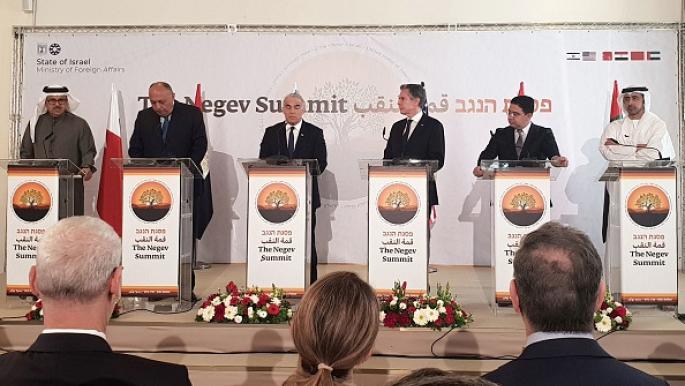 The Khalifa regime turned Bahrain into a centre for spreading normalization by hosting a meeting of Israel and 3 Arab countries within the Negev Summit.
The Israeli public radio announced that Bahrain would host a meeting of delegations from the group of countries whose foreign ministers participated in the Negev summit three months ago, which resulted in the establishment of the so-called Negev Forum.
Strangely, the official Bahraini media did not report any news so far about the meeting.
The Israeli radio indicated that representatives from Bahrain, the UAE, Egypt, Morocco, Israel and the United States of America would participate in Bahrain in a working meeting.
According to the public radio, the meeting aims to crystallize work rules and organize meetings of the various working groups of the aforementioned countries to strengthen cooperation in the fields of water, energy, education, economy and regional security cooperation.
It is scheduled to represent Israel in the meeting Director-General of the Israeli Ministry of Foreign Affairs, Alon Oshbis. The United States of America will be represented by the Ministry of Foreign Affairs official, Yael Lambert.
The radio quoted Oded Yosef, the official in charge of foreign relations in the Middle East at the Israeli Ministry of Foreign Affairs, saying that Saudi Arabia may participate in such meetings in the future.
Last March, the American Wall Street Journal revealed that the United States of America held a secret meeting between Israeli and Arab military leaders in the Egyptian city of Sharm el-Sheikh to discuss confronting the Iranian air threat.
According to what the newspaper quoted the US and regional officials as saying, the meeting included high-ranking military officials from Israel, Saudi Arabia, Qatar, Egypt and Jordan, during which coordination took place against Iranian missile capabilities and drones while discussing possible military cooperation.
The meeting included, according to the American newspaper, the chief of staff of the Israeli army, Aviv Kohavi, the Saudi chief of general staff, Fayyad bin Hamid al-Ruwaili, and senior leaders from Jordan, Egypt and Bahrain, while the UAE sent a lower-ranking officer.
Participants in the meeting agreed on rapid notification when Iranian air threats are detected, in which phone or computer notifications will be sent when the threat is detected, without sharing high-speed digital data, as the US military does.
According to the newspaper, these understandings will not be binding, but the next step is to secure support for political leaders to legalize notification arrangements and expand cooperation.
This meeting followed secret discussions in low-level working groups between representatives of a number of these countries to discuss hypothetical scenarios on how to cooperate in discovering air threats.
The newspaper mentioned that military cooperation between Israel and Arab countries was impossible for decades. Still, several variables, most notably the normalization agreements signed between several Arab countries and Israel, facilitated this.