News
UK criticized for appointing a minister linked to the oppressive Bahrain regime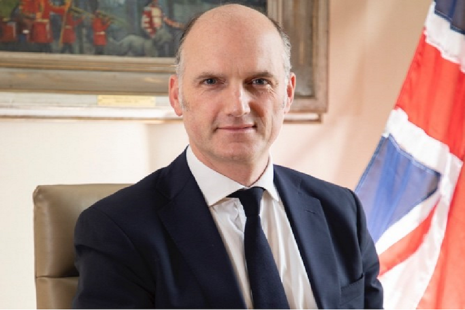 Human rights groups strongly criticized the appointment of a British minister linked to repressive regimes in Bahrain and Saudi Arabia.
It was revealed that Leo Docherty, appointed Minister of State in the Foreign, Commonwealth and Development Department earlier this month, had received more than 6,000 pounds from Bahrain under the heading "special visits" and 16,000 from Saudi Arabia for the same purpose.
Human rights groups have raised concerns that Docherty received more than £30,000 in hospitality from repressive Gulf states and could become minister for the Middle East.
The department has not yet determined which portfolio Docherty will take. Still, activists say they are "extremely concerned" that he could be assigned responsibility for relations with the Middle East and North Africa (MENA) region.
They say such an appointment would be "out of the question" given the "previous MPs' patronage of some repressive regimes in the world" and their praise in Parliament.
In the first 18 months since his election in 2017, Docherty received £30,437 in paid flights from Saudi Arabia, Bahrain, the United Arab Emirates and Kuwait, according to his track record.
And in 2017, he lodged a formal complaint with the Parliamentary Commissioner for Standards after failing to advertise a paid trip to Saudi Arabia properly.
During a September 2018 parliamentary debate on Bahrain in which MPs expressed concerns about human rights in the country, Docherty said he was "extremely proud" of his association with the Gulf state – where Amnesty International says torture is used with "impunity".
"When we travel to Bahrain, we see a young country that has achieved remarkable development in a very short time," he said, adding that "there is a huge impulse in the ruling family to bring about reforms and improvements."
In an article published in October 2018, Docherty defended the introduction of paid flights from governments of other Gulf states, saying that Saudi Arabia "has for many years been very strategically important to the United Kingdom in many sectors".
He described the UK as "an old ally of our friends in Saudi Arabia and the UAE".
The Ministry of Foreign Affairs declined to comment on the activists' concerns but said that ministerial portfolios would be allocated and announced in due course.
"This appointment has raised the alarm among human rights groups," said Syed Ahmed Alwadaei, advocacy director at the Bahrain Institute for Rights and Democracy.
And he continued, "Docherty repeatedly received gifts in the form of paid flights from Gulf countries, including Bahrain and Saudi Arabia, and then praised her in Parliament, despite her egregious violations of human rights.
Lord Scriven, a fellow Liberal Democrat and deputy chair of the All-Party Parliamentary Group on Democracy and Human Rights in the Gulf, said it would be "frankly unacceptable" for a minister to "be given direct patronage by those same countries, and to receive gifts in the form of lavish trips".
Lord Scriven added: "He took selfies with the Crown Prince of Saudi Arabia while supervising a military operation in Yemen, the world's worst man-made humanitarian crisis, and oversaw the execution of pro-democracy protesters in Saudi Arabia.