News
Prominent Bahraini political prisoner awarded 2022 PEN Pinter Courage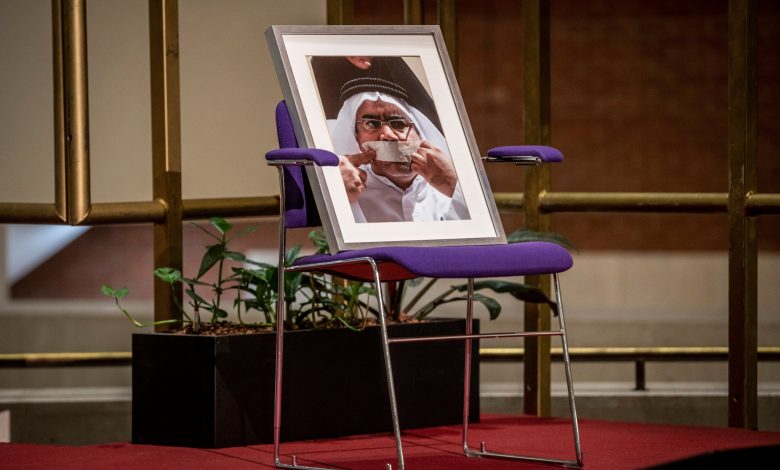 Academic Al-Singace was announced as the 2022 PEN Pinter Courage Award winner, applauding his famous phrase, "No one understands the high cost of speaking the truth in the face of power in a repressive country."
Tweeters elaborated on the implications of placing a picture of Al-Singace, taken more than 12 years ago, on the chair dedicated to the brave thinkers of the world in the British Library Hall as a title for the injustice of the Khalif gang.
In June 2022, the Ben Pinter Prize announced the selection of the academic, activist and blogger Abdul Jalil Al-Singace from Bahrain as this year's World Writer of Courage.
Al-Singace received his PhD in Impact Mechanics from the University of Manchester Institute of Science and Technology and returned to serve as Head of the Mechanics Department at the University of Bahrain until 2005.
Without further ado, the university president demoted his rank because of his human rights activities. The Bahraini authorities soon blocked his blog, Al Fasilah, in which he monitored the regime's flaws, his country's urgent need for change, and a taste for freedom. 
Be careful when you use the words' change' 'dream' and 'democracy'. Those things don't come so easily to us.

-Dr Abduljalil Al-Singace, The New York Times, 2 June 2009
During George Bush's visit to Bahrain in 2008, Al-Singace submitted a petition of 80,000 signatures to the US President, describing Bahrain as an undemocratic country and demanding the drafting of a democratic constitution.
Barely a year later, he wrote an op-ed for the New York Times calling on Barack Obama not to talk to the Muslim world about democracy unless he can achieve it.
In the summer of 2010, Al-Singace visited the UK to attend a seminar in the House of Lords, during which he described the deteriorating human rights situation in Bahrain, speaking at length about the trinity of repression: [There are] three pillars ensuring that activists and NGOs who work on exposing violations are seized and [condemned] somehow, ensuring that they are suppressed. The first is the use of force, torture and ill-treatment. [The] second is the use of the law. And [the] third is the judicial apparatus and procedures.
On his way back, he was arrested at Bahrain International Airport, claiming that he had abused the freedom of opinion and expression prevailing in the Kingdom, which might "harm the stability of the country."
Al-Singace and others prosecuted with him were released in February 2011 after widespread calls for political reform.
However, his family recounts that in March, near midnight, about 50 policemen and some masked policemen wearing civilian clothes and speaking with a Saudi accent drove Al-Singace to a police station for a few hours before he was transferred to Al-Qurain Military Prison. He was placed in a police station in solitary confinement for two months in a dark cell. 
A week later, his eldest son Hussein, 28 years old, was arrested, and a military court sentenced him to seven years in prison.
In June 2011, al-Singace was tried before the Military National Safety Court. He stated that his glasses and medication had been taken from him for nine weeks, and that he had been subjected to ill-treatment, which was confirmed by reports that he had been subjected to all kinds of torture, including verbal and sexual assault and beatings, and all of the above. 
He described the trinity of repression in the House of Lords, but the court charged him with conspiring to overthrow the government and handed down a life sentence, which was upheld by the High Appeals Chamber on 4 September 2012.
During his detention, Al-Singace went on hunger strike several times, most recently in July 2021, to protest his ill-treatment in prison and the confiscation of a manuscript he had been working on for several years. He suffers from deplorable health conditions as he depends on a wheelchair for movement. He also suffers from post-paralysis syndrome Children, problems with the heart, eyes and sinuses, and what might ensue when prison authorities deny him the treatment he needs. 
What happened to Al-Singace provoked the international community, including the United Nations Special Rapporteur on human rights defenders and leading human rights organizations, and the International PEN Award-granting Association, which has undertaken since 1960 to highlight persecuted writers around the world, in response to widespread attempts to Muzzle, and called on the authorities in Bahrain for his immediate and unconditional release.