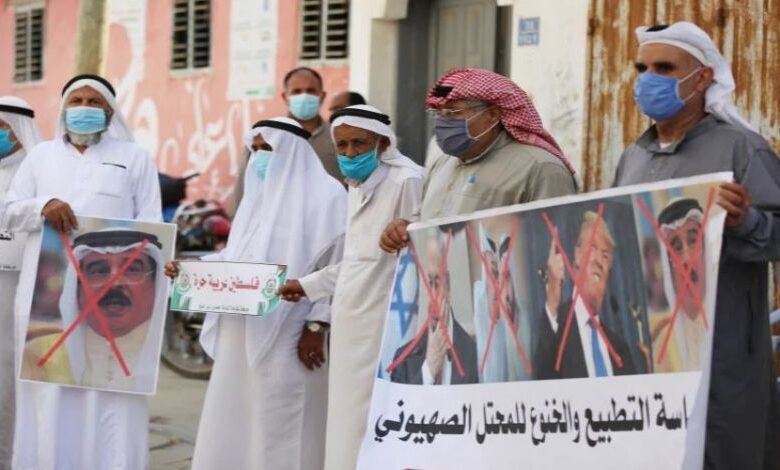 Bahraini politicians asserted that the regime aims, behind normalization with Israel, to take advantage of Israeli security surveillance programs to watch citizens and control their movements inside Bahrain.
Abdullah Al-Saleh, Deputy Secretary-General of the Islamic Action Society in Bahrain, said that the Bahraini regime's haste to normalize with Israel is clear evidence that the people, with the entry into the tenth year of the start of their revolution on February 14, have rejected the regime's repressive mechanism.
"Despite all the technologies that this system tried to take advantage of," he added.
Dangerous apps
Bahraini security sources had warned of the danger of mobile applications, which the regime's authorities had announced months ago, under the pretext of tracking people with Covid-19 virus and their contacts.
The security sources stated to Bahraini Lakes that these applications involve violating hundreds of thousands of citizens' privacy and security.
Those sources revealed that the authorities recently acquired millions of dollars in Israeli spy services to spy on the activists.
These systems are the most advanced Israeli-made spy weapons, according to the sources.
Sheikh Al-Saleh added in a television interview followed by Bahraini Leaks, that the regime's authorities are still unable to quell the people's revolution, control it, suppress its innovations and ways to bypass the blocking that it places.
A major betrayal
Ibrahim Al-Aradi, director of the political bureau of the February 14 Revolutionary Coalition, said that ten years after the Bahraini people's revolution, the regime still "crosses all the red lines of the Bahraini people."
"It perpetrated all kinds of violations until it reached normalization with the Israeli occupation."
Al-Aradi added: The Bahraini people consider normalization major treason.
He indicated that the new US administration headed by Joe Biden "would continue what Trump has done in inciting the authorities to normalize relations with the Zionists."
"Indeed, the Biden administration considered the normalization of Arab countries with the occupation as one of Trump's few achievements during his rule," he said.
Al-Aradi stressed that the new US administration would complement the intelligence relations between the Arab countries and the Israeli occupation, and these matters have been arranged under the table.
And he continued, "Nothing will change, only the form of the speech will differ from a fierce and oppressive speech by Trump to that of Lynn in the Biden era."