News
Bahraini Leaks Publishes Names of Political Detainees with Coronavirus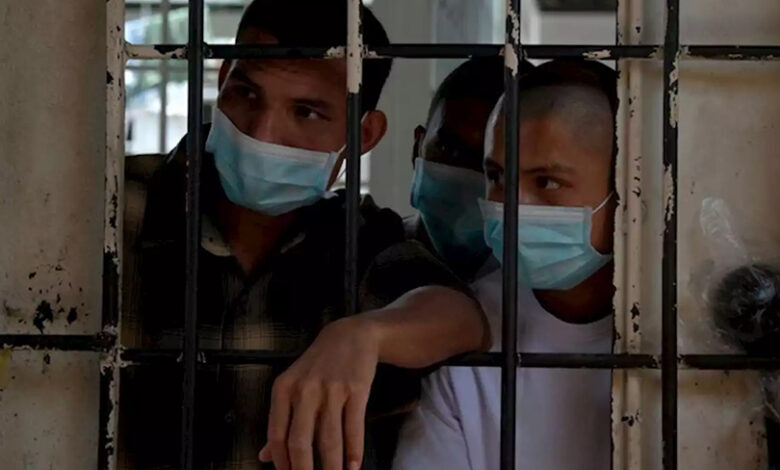 On March 23, prisons behind the Bahraini regime's bars witnessed the first infection of the Coronavirus, amid severe overcrowding in prisons.
To date, the number of cases of prisoners of conscience infected with the virus has reached 39, most of them are in Jaw Central Prison.
Human rights organizations warned that the outbreak of the virus in prisons will expose detainees and employees to imminent danger.
Three of the injured suffer from chronic diseases: Fadel Muhammad Reda Badah, Ahmad Muhammad Salih, and Muhammad Al-Singace.
In addition, prisoners of conscience are languishing in very overcrowded cells and wards.
It was confirmed that four of the aforementioned injured were in a ward containing more than 150 detainees of conscience. It is ward No. 2 in Building No. 21 in Jau Central Prison.
Two Bahraini human rights organizations indicated that the release of prisoners in light of the Corona pandemic is less and slower than it should be.
677 cases of release of political prisoners have been recorded since March 2020, among whom many have finished their sentences.
The Bahrain Forum for Human Rights and Peace Organization for Democracy and Human Rights pointed out the most severe forms of torture and ill-treatment that have been observed in prisons in recent years.
They documented 776 cases of violations of the right to receive appropriate and necessary treatment were monitored from January 2018 to March 15, 2021.
In previous cases, the deterioration of prison conditions raised many complaints and led to many protests demanding prison administrations to meet minimum rules for the treatment of prisoners.
The most prominent of these protests were unrest at Dry Dock Prison in 2013, and the unrest at Jaw Central Prison in 2015.
Bahraini Leaks publishes the names of detainees infected with Coronavirus, based on the data of the Bahrain Forum and the Peace Organization:
1 Hani Ahmed Issa is mortgaged
2 Nasser Yaqoub Youssef Nasser
3 Fadel Muhammad Reda Ali Hassan Ibrahim Baddah (suffers from chronic diseases such as epilepsy)
4 Hussein Saeed Ibrahim Hassan Ali
5 Sami Jaafar Abbas Muhammad Ali Al-Sheikh
6 Muhammad Abdullah Yusef Ahmed Al Singace (suffers from chronic diseases)
7 Mr. Ali Musa Jaafar Alawi Hussein
8 Ahmed Jaafar Al-Agouz
9 Ahmed Muhammed Salih Jasim Hasan Ali (suffers from chronic diseases)
10 Mr. Mahmoud Sharaf
11 Mojtaba Sadiq Hassan Ali Abdullah Issa
12 Abdulaziz Jaafar Abdulaziz Ahmed Jawad
13 Mr. Ahmed Alawi Jawad Mahfouz Ali
14 Hasan Jawad Al-Mudhader
15 Noah Abdullah Hassan Ahmad Hassan Al Amrum
16 Ali Abbas Hassan Ali Ahmad Al-Asfour
17 Abdullah Qasim
18 Mr. Qassem Jalil
19 Mr. Nizar Nehme Baqer Ali Yusef Al-Wadaei
20 Hadi Ibrahim Mohammed Amin Ibrahim Al-Arab
21 Muhammad Jaafar Talib Jaafar Abdullah Al-Ghasra
22 Khalil Ibrahim Abdul-Rasoul
23 Nasser Faisal al-Nabool
24 Ali Fraikh
25 Mansour Al-Nasiri
26 Hussain Ali Juma
27 Ali Ahmad Jaafar Ahmad Laith
28 Mustafa Abdul Karim Ibrahim Ali Hassan Khatem
29 Mr. Ahmed Ali
30 Ahmad Humaidan
31 Hussein Younes
32 Abbas Ibrahim Hassan Al Majed
33 Abdul-Jabbar Abdul-Hussain
34 Hussain Ali Saleh Al-Marzouq
35 Ahmad Ali Yusef Jassim
36 Sadiq Abdullah, the Twelve
37 Mazen Mansour Ahmad Alwanah
38 Abbas Ahmad Khamis
39 Ahmad Jaber Radhi