News
Source: The US Secretary of Defense discussed with the Crown Prince of Bahrain receiving batches of Afghan agents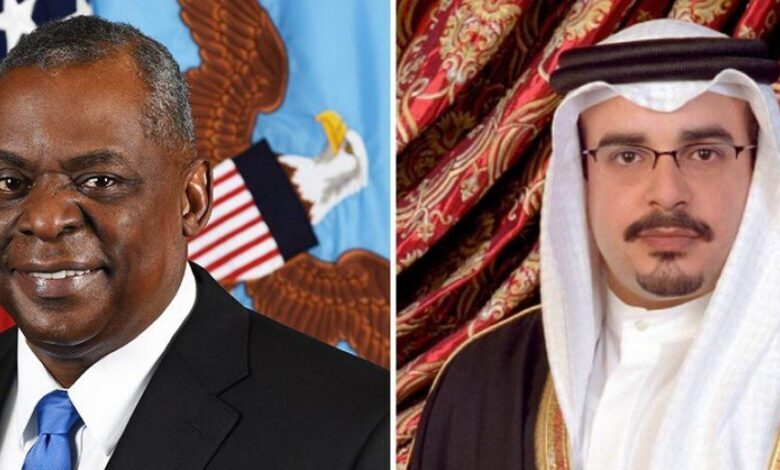 A source close to the Royal Court told Bahrain Leaks of the contents of phone conversations between US Defense Secretary Lloyd Austin and Bahraini Crown Prince Salman bin Hamad Al Khalifa.
The source reported that the US Secretary of Defense discussed receiving additional batches of Afghan translators secretly and resettling them in the country with the Bahraini prime minister.
The source indicated that the United States intends to evacuate its agents fleeing from the Taliban movement after extending its control over the entire Afghan territory to avoid reprisals against them by the militants of the movement.
The source confirmed that the United States intends to allocate millions of dollars to help shelter these agents before attracting them to the American states.
On Thursday, the Bahrain News Agency reported that the Crown Prince of Bahrain discussed with the US Secretary of Defense "the developments of the situation in Afghanistan and support for the security and stability of the region."
According to Banna, the strategic relations between the Kingdom of Bahrain and the United States of America were reviewed during the call.
They also discussed issues on the regional and international arenas of common interest, foremost of which are the developments in Afghanistan, stressing the importance of strengthening efforts to support security and stability in the region, according to the same agency.
And last week, sources revealed to Bahraini Leaks that hundreds of Afghan translators and their families arrived in Bahrain in the previous two weeks, before the Taliban movement took control of the Afghan capital, Kabul.
The sources, requesting anonymity for security considerations, stated that the Afghan translators arrived personally, as Bahrain International Airport received more than one flight coming from Kabul Airport with these and their families on board.
According to senior officials, the sources expected that the coming days would witness the arrival of other flights of translators who worked for the US Army, which plans to withdraw all of its forces next September.
American sources have stated that the United States plans to evacuate about 50,000 vulnerable Afghan interpreters to Gulf countries before the US military withdrawal from Afghanistan.
Afghan translators fear reprisals at the hands of the Taliban after the withdrawal of US forces.
Earlier, a Gulf tweeter warned the Arab Gulf states of the consequences of agreeing to receive what he described as "Afghan agents" whom the United States is requesting to house in its military bases temporarily.