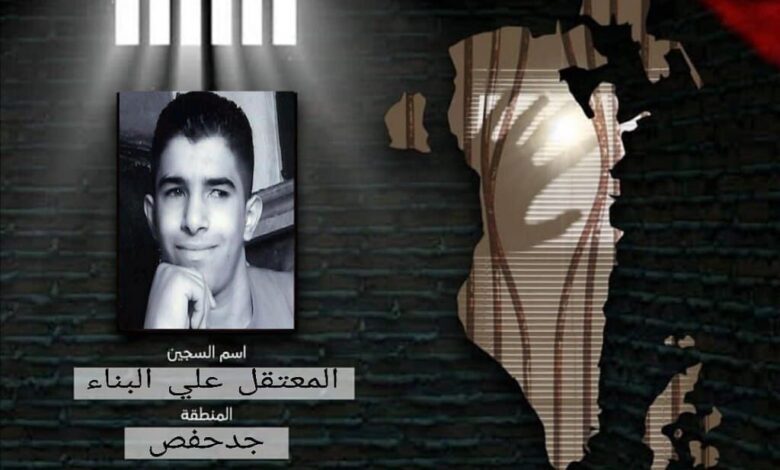 The Bahraini regime deprived the prisoner of conscience Ali Al-Binaa of medical treatment for three months and
subjected him to the worst psychological and physical torture types.
Ali Al-Binaa, who suffers from heart diseases, is serving an arbitrary 15-year prison sentence in the prisons of the
Bahraini regime, of which he spent more than half.
During that period, his health condition deteriorated, which required urgent emergency hospitalization. But when he
was sent to hospital, doctors informed the authorities that he suffers from heart conditions.
As a result, he underwent a catheterization, and the doctors prescribed him a set of medications, and he is
supposed to undergo a treatment course.
But due to the outbreak of the COVID-19 virus, this course has been discontinued.
According to an audio message, the Prisoner Al-Binaa confirmed that the Bahraini authorities have refused to
give him the medicines he needs according to the doctor's prescription for three months.
And he added that he has been subject to quarantine since March 24, 2021, due to the spread of the Covid pandemic
and the mixing of infected people with others.
He added that he also suffers from hearing loss in his left ear, vision in his left eye, and poor vision in his right.
According to Bahraini activist Ali Al-Aradi, the case of Prisoner Ali Al-Binaa is among the thousands of prisoners
of conscience who undergo underlying medical conditions.
Bahraini activists had organized a sit-in in Berlin, denouncing the policy of medical negligence that led to the
killing of political detainees in Bahrain's prisons.
Moreover, the participants raised pictures of political detainees and banners denouncing the persecution practised by the
Bahraini authorities.
They denounced the regime's continued crimes against prisoners of opinion and expression in the Kingdom.
But the Human Rights Voice website says that the Jaw prison administration in Manama silences and suppresses
public complaints from prisoners about the conditions of detainees who receive ill-treatment.
The human rights website added that among the prominent political prisoners are members of Bahrain-13, many
of whom are serving life sentences and suffering from serious medical complications as a result of torture.
The Jaw prison administration also continued to deny medical care to many prisoners as a form of punishment.
With no independent public inspection since 2005, the reality of Jaw Prison is likely to be direr than we can
imagine.