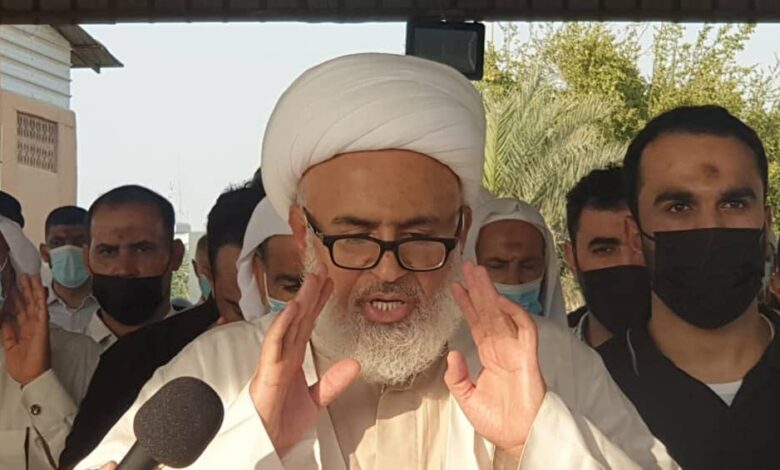 Prominent political prisoner Sheikh Abdul-Jalil al-Miqdad has warned of the deteriorating health conditions he is going through inside the notorious Jaw Prison and the deliberate medical neglect.
This came in a message he leaked from inside his prison, in which he raised the issue of the lack of medical care he faces, like other prisoners.
In the letter, he said: "I am subjected to medical negligence that amounts to torture."
Sheikh Al-Miqdad added that he holds the regime's authorities "responsible for anything that might happen to me."
This is the first time that Sheikh Miqdad, 61, has complained about his deteriorating health, despite his continuous suffering since his arrest in 2011.
Last month, the regime authorities briefly released this political prisoner to participate in his mother's funeral.
Sheikh Al-Miqdad is considered one of the most prominent opposition leaders detained in Bahrain, and he is sentenced to 30 years in prison.
He has been in prison for more than ten years. On March 27, 2011, he was arrested for leading protests that erupted in February of the same year.
Sheikh Al-Miqdad is one of the founders of the Islamic Wafa Movement, and its most prominent leader is with Abdul-Wahhab Hussein, who is sentenced to life imprisonment.
Recently, 60 members of the European Parliament sent a letter to the King of Bahrain, Hamad bin Isa Al Khalifa, demanding the release of prisoners of conscience and prominent political prisoners.
In the letter, the MPs expressed their deep concern about their staying behind bars as they suffer from a chronic health condition that puts their lives at risk with the increasing spread of the Coronavirus in Bahrain.