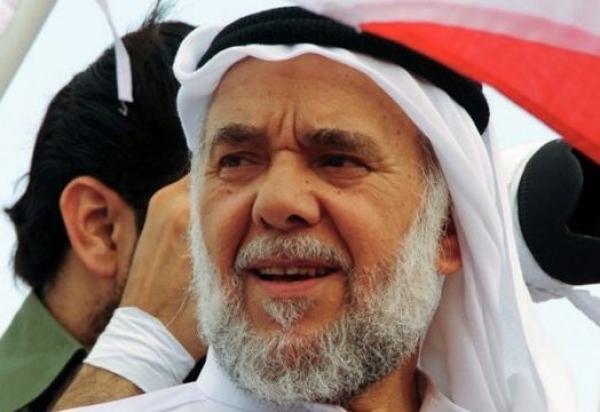 Reports revealed that detained activist Mushaima's health deteriorated, and he was rushed to hospital.
Activist Ali Mushaima, son of political prisoner Hassan Mushaima, stated that his father was transported yesterday by ambulance to the hospital.
He added that he was returned to the prison at 2 am, and he was alone in building 10 of Jaw Prison, which is crowded with prisoners of opinion and expression.
According to the doctor, and after the examinations, prisoner Mushaima, 72, might be exposed to infection, and accordingly, some medications were prescribed to him, and he needs regular follow-up.
Real concerns are raised over the life of this political prisoner, who is considered the leader of the opposition in Bahrain, as he developed severe health symptoms as a result of complications in diabetes.
His son Ali, who lives in London, reported a few days ago that his father suffers from abnormal swelling of the feet with black spots.
He added in tweets that the father also complains of a significant swelling in the leg and severe knee pain, limping in walking, and difficulty moving due to the pain.
He said that the father spent nearly two months in health detention in Building 10 in Jaw Prison, under the pretext of following up on his medical appointments, but the procedures were cosmetic and show.
He indicated that the truth is a noticeable decline in his health, which increases our fear for his life. He added that "neglecting treatment is a crime that is added to the crime of continuing his unjust imprisonment."
Last month, the son of the dissident Hassan Mushaima, imprisoned in Manama, called on the UK government to reconsider its relationship with King Hamad bin Isa's regime and help secure his father's release.
And Ali Mushaima revealed in the exhibition of an article he published on a British website concerned with establishing democracy and defending activists that his father had received cancer treatment in the United Kingdom before his imprisonment.
But he suffers from diabetes, gout, heart disease and prostate problems, and he is recovering from lymphoma.
Despite these harsh conditions, he was routinely denied access to adequate medical care by prison authorities.
The political activist cited what happened to his father on March 27, reporting a large outbreak of Corona in Jaw Prison, which raises concerns for his health, which is particularly at risk of deteriorating amid this outbreak.
Harsh conditions
In turn, Bahraini activists on social media have raised the harsh conditions faced by this detainee in Jaw Central Prison.
Activists criticized the prison administration for ignoring his deteriorating conditions resulting from his previous cancer, despite his old age.
They stressed that the regime authorities must take immediate measures to protect his right to life, especially that all the factors that enable the Corona epidemic to reach him are available due to his detention in a closed place. His immunity is weak because he is a former cancer patient.